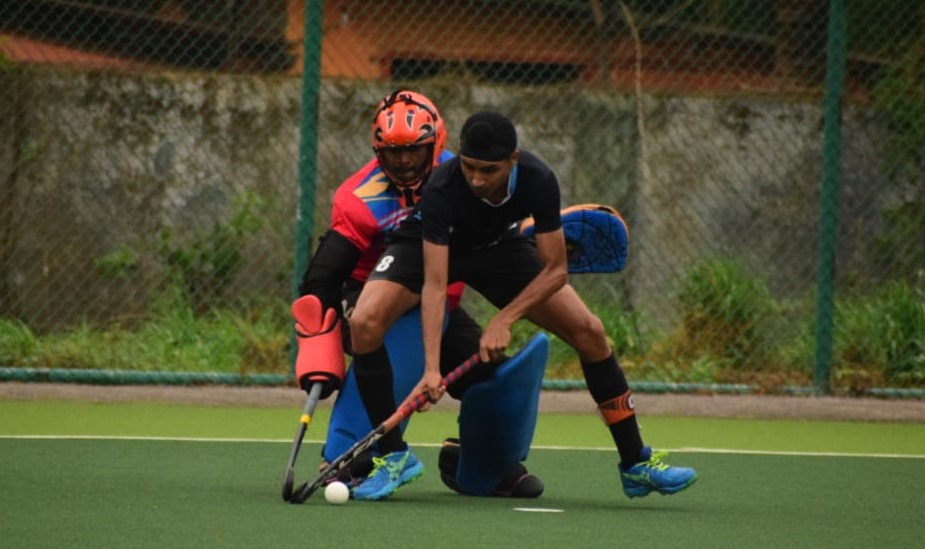 Photo Credits: The Goan
PANAJI
Odisha, Uttar Pradesh, Haryana and Jharkhand progressed to the semifinals of the 12th Hockey India sub-junior men's national championship played at hockey astro turf at Peddem Sports Complex, Mapusa, on Thursday.
Odisha defeated Dadra and Nagar Haveli and Daman and Diu 2-0. Odisha drew the first blood when Bilkan Oram netted in the 14th minute. In the 40th minute, Odisha doubled the lead through Irengbam Singh to win the match for his side.
In another quarterfinal match, Uttar Pradesh hammered Punjab 6-1. UP struck early in the first quarter as goals by captain Manoj Yadav and Shahrukh Ali put the team in the driver's seat. Manoj Yadav put in a captain's performance, bagging two penalty corner goals in the first quarter.
A 10th-minute goal by Punjab showed signs of a tough tussle but UP scored two goals to establish their dominance. A sixth goal in the fourth quarter sealed UP's ticket to the semifinals.
Haryana scored the first goal in the 11th minute through Bittu who later went on to score a brace in the 14th minute. The Haryana side scored yet again in the 25th minute through Sahil before the Bihar side pulled a goal back through Atit Kumar in the 30th minute.
In the third quarter, Haryana went on two score twice through Rahul in the 41st minute and 62nd minute to round the tally to 5-1 and sail into the semi-final.
In the first game of the day the defending champions Hockey Jharkhand edged past Hockey Chandigarh 7-5. With the score of 3-3 the tiebreaker between Jharkhand and Chandigarh was an aggressive game both sides with a good start from Jharkhand scoring a goal almost instantly by Bishal Lakra.
Jharkhand held possession most of the time mostly attacking and passing with Chandigarh maintaining a strong defence throughout the quarter.
The second quarter was a match of passive gameplay with both teams attacking and defending simultaneously holding almost equal possession and Chandigarh was showing some incredible teamwork and efforts in the quarter.
The 3rd quarter was a game changer for Chandigarh as they tore open the Jharkhand defence scoring 2 goals through Gurpreet Singh but Jharkhand did manage to counter back with a goal, rest of the quarter was played quite aggressively by both teams playing on mode attacking most of the time.
In the 4th quarter Chandigarh scored a goal hoping to keep the score the same way but Jharkhand instantly countered back with a goal making the score a tie, both teams were on fire with the rest of the quarter aggressively attacking and counter attacking but none of them managing to score a goal.