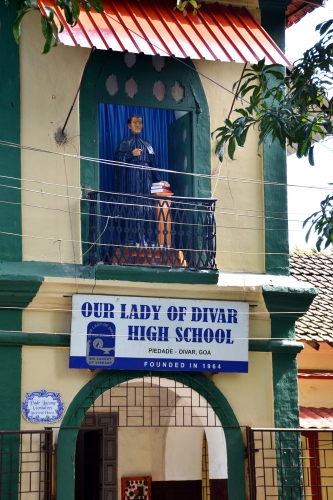 Parishioners of Piedade have begun an annual commemoration on July 17 since 2016 to pay tributes to Fr Jacome Gonsalves, an illustrious and talented son of the soil of Divar Island, who was an Oratorian priest and missionary along with St Joseph Vaz in Sri Lanka.
Born on June 8, 1676, in the Island of Graca (Maddel) Chorao at his mother's home, Fr Jacome went to become a successful missionary in Ceylon (Sri Lanka). July 17 marks the 279th anniversary of this saintly Goan missionary who toiled silently in Ceylon with faith, love and sacrifice.
Fr Jacome studied at the parochial school in Divar and later joined St Paul's College in Old Goa to obtain a Bachelor of Arts degree in 1696. He then pursued studies in Theology at the Dominican College of St Thomas Aquinas in Old Goa, where he also held the post of an organist. He was ordained priest in April 1700 by Archbishop of Goa Agostinho de Anunciacao at the Cathedral of St Catharine.
Fr Jacome later joined the Oratorian Congregation and went to Sri Lanka on May 9, 1705, to join St Joseph Vaz. He carried out his arduous missionary work for 36 years. Fr Jacome died on July 17, 1742, and was buried in the Church of Bolwatte in Sri Lanka.
Fr Jacome was known as the "Father of Catholic Literature in Sri Lanka" because of the service he had done to the Catholic Church in Sri Lanka through his books. He has written 42 books, including 22 in Sinhala, 14 in Tamil, 5 in Portuguese and 1 in Dutch.
With the canonisation of St Joseph Vaz in Sri Lanka by Pope Francis in January 2015, the people of Divar took the initiative for the cause of Fr Jacome Gonsalves with great enthusiasm and effervescence. The Committee for the Cause of Canonization of Fr Jacome Gonsalves was formed on November 22, 2015, under the chairmanship of Fr Jose Dias, Parish Priest of Our Lady of Piety Church, Divar.
As part of an annual commemoration to pay tributes to Fr Jacome, Parishioners of Piedade named the main village road in front of his three-and-a half-century-old ancestral house as "Fr Jacome Gonsalves Road" on July 17, 2016.
On July 17, 2017, a biographical book "Fr Jacome Gonsalves – A Magnificent Life" by Eng. Jose de Albuquerque was released. The next year, a plaque of Fr Jacome on the wall of Our Lady of Piety Church, Divar was inaugurated by Fr Jose Dias.
In 2019, parishioners of Divar erected two statues, one of Fr Jacome Gonsalves and another of his companion St Joseph Vaz in front of the church.
On July 17, 2020, a statue of Fr Jacome Gonsalves was installed in the room of Fr Jacome Gonsalves' ancestral house (presently Our Lady of Divar High School). Also, the nursery, Lower KG and Upper KG classrooms were renovated and named after Fr Jacome Gonsalves.
This year, the 279th anniversary of Fr Jacome Gonsalves could not be celebrated in view of the pandemic. However, the Islanders have decided to have a tree plantation programme in the Churchyard of Our Lady of Piety Church, Divar, on July 17.
(The writer is vice-president of Catholic Association of Goa)