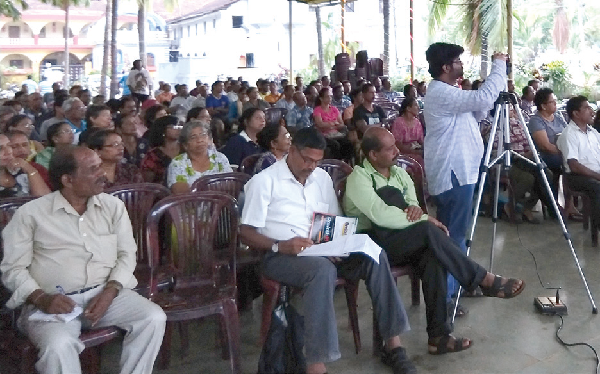 the goan I network
MAPUSA
Sounding the bugle against a holiday home project coming up close to the water treatment plant in Assonora, a group of locals under the banner of Assonora Ekvott along with Goencho Avaaz decided to do everything possible to keep the mega project away.
"As per our information, about 80 percent of the project has been completed. But we will fight it out and stop the project come what may," said Viriato Fernandes, co-convenor of Goencho Avaaz.
"If we have to take the law into our hands, we will do it. We are ready to be arrested," Fernandes added to a resounding applause.
The co-convenor of Goencho Avaaz was addressing a gathering at an awareness programme against a holiday home project at St Clara Hall, Assonora on Sunday evening.
Despite the pre-monsoon showers, people from neighbouring villages of Tivim, Bodiem, Sirsaim besides Assonora had attended the meeting.
Opposing the 200-room hospitality project, leaders of Assonora Ekvott and Goencho Avaaz said that the project will contaminate drinking water which is supplied to entire Bardez and parts of Bicholim taluka.
Giving a presentation on how the project was passed in a land that was primarily green area, Swapnesh Sherlekar of Goencho Avaaz said that in RP-2001 the land where the project was coming up was shown as green area.
"Suddenly, in RP-2021 the same land was shown as settlement area for the benefit of the project proponents," Sherlekar alleged.
Siddesh Pednekar of Assonora Ekvott said that the project was coming up close to the Assonora (Par) river and the water treatment plant.
"The water from Assonora river is treated at the Assonora treatment plant which is then supplied to whole of Bardez and two villages of Bicholim taluka – Mulgao and Sirigao," Pednekar said.
He further alleged that sewage water generated by the massive hotel project will definitely find its way into the river and which will then contaminate the drinking water.
According to Abhijeet Prabhudessai of Goencho Avaaz, Bardez needed 150 mld of drinking water and the treatment plant had the capacity of generating only 92 mld which is extended to 110 mld.
He said with new constructions and hotel projects, the demand of drinking water will rise putting people in Bardez in great difficulty.
"If we allow one project such as this, many others will follow. The people of Bardez should stop the project and pass a clear message to all future entrepreneurs," Prabhudessai said.
Manoj Parab of the Goencho Avaz and locals, Robert Colaco and Moses Fernandes also spoke on the occasion.