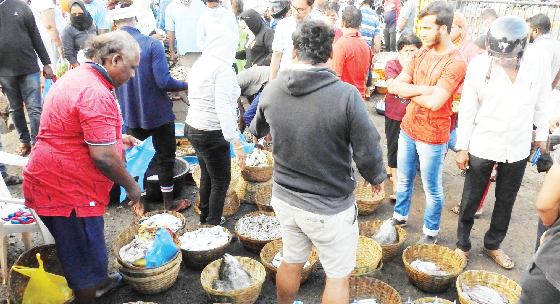 the goan I network
MARGAO
Fish-loving Goans rushed to the SGPDA wholesale and retail fish markets on Tuesday, taking advantage of the five-hour relaxation of the partial lockdown, with the fortunate ones managing to lay their hands on the fish sold at a premium.
Both the wholesale and retail fish markets were opened on Tuesday, but buyers hardly enjoyed any option and had to buy whatever variety was sold by the vendors. At the wholesale market, fish was seen after a two-day break. But, the hustle and bustle was clearly missing as evident by the fact that the wholesale market platform, which plays host for fish coming from across the state borders, was virtually empty. Only a handful of traders were found selling sole fish and prawns.
A couple of mechanized boat owners brought fish into the market for sale, offering varieties such as Tuna, mackerels, squids etc, which helped to meet the requirements of the retail fish vendors as well as customers, who thronged the wholesale fish market with the hope of laying their hands on fish.
Traditional fishermen also made brisk business in the wholesale fish market selling fresh sea fish to the customers. In fact, the fresh sea fish turned out to be much-sought-after, with customers clearly preferring for it over the one sold in boxes.
The PDA retail fish market also opened after a two-day break. However, many complained fish was being sold at a premium. The SGPDA vegetable and fruit markets, which were shut down by the police on Monday opened on Tuesday with customers making a beeline to lay their hands on fresh items.