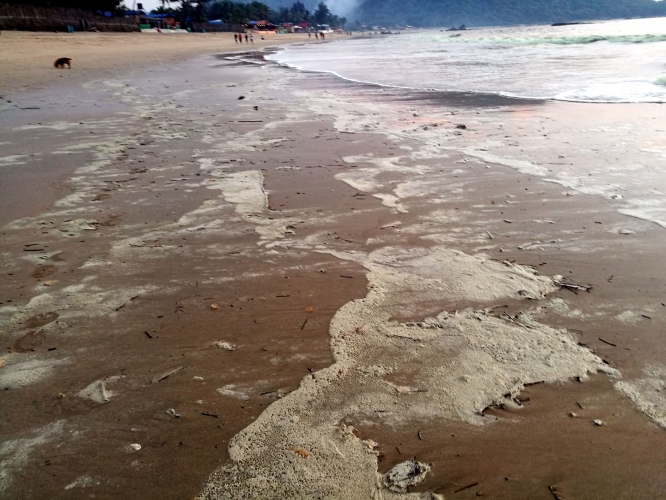 CANACONA
The world-famous Agonda beach has been attracting tourists from far and wide, but the foamy seawater which emitted a strong odour on Wedesday repelled people from entering into the sea.
According to locals, the seawater had turned visibly green and large amounts of a greenish foam began to form ashore, emitting foul smell along the entire 3-km coast at Agonda since early Wednesday morning.
"This has been a regular occurrence at Agonda beach and what worries us is the unbearable stench," remarked a local who was on a beach stroll on Wednesday evening.
According to another resident, the greenish foam was first noticed by some fishermen while they were on a fishing trip and soon, the contamination reached the coast as the waves began to hit the shore.
The greenish foam and stench kept tourists away from the sea and most restricted themselves to the sand.
When contacted, Vice-Principal of Shri Mallikarjun College Prof. F M Nadaf suggested that the sea foam could have been caused due to algal blooms.
"At the first instance, it appears to me that it is sea foam caused due to algal blooms. Algal blooms decay offshore and often wash ashore. Sea foam is not dangerous to humans but when algal blooms decay in large quantities near the shore, it is detrimental to human health and the environment," said Prof. Nadaf.