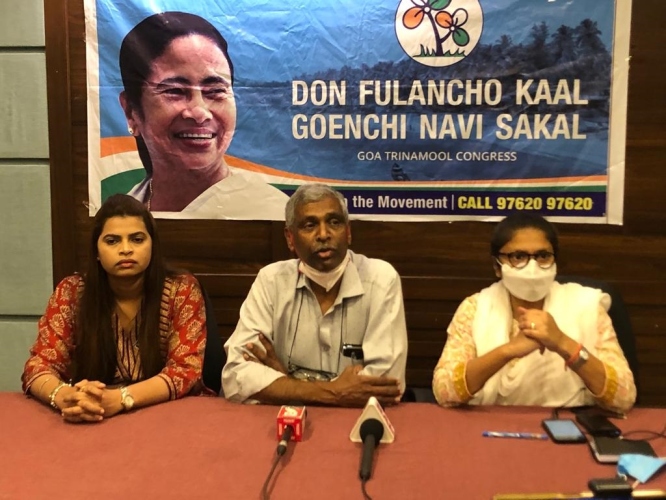 PANAJI
Congress and BJP are two sides of the same coin. A vote to Congress is a vote to the BJP said Goa TMC Vice-President Dr Jorson Fernandes.
Reiterated that the TMC is here to safeguard the secular fabric and democratic values of India that are under attack of the divisive forces of BJP, Rajya Sabha MP & AITC Goa co-incharge Sushmita Dev, Vice President of Goa TMC Dr Jorson Fernandes and Goa TMC candidate from Navelim Valanka Alemao addressed the media in Margao, states a press release.
Goa TMC candidate from Cuncolim, Dr Jorson Fernandes said, "False propaganda is being spread against the TMC that we have come here to split the opposition vote, but I want to tell you all that it's the Congress that is helping the BJP. Every vote to Congress is a vote for BJP. Congress disrespected people's mandate back in 2017. They failed to keep their flock together. Congress MLAs didn't think twice before jumping to the BJP. Hence, both Congress and BJP are two sides of the same coin."
Goa TMC Navelim candidate Valanka Alemao said, "They are targeting us since we are getting a tremendous response from the people. Other parties are trying to divide people not TMC. Goans have time and again been fooled by the Congress but not anymore."
Asserting that TMC stands for Temple, Mosque & Church, Valanka added that the people of Goa should fight unitedly against the divisive forces, the release adds.
"People shouldn't be fooled again by Congress. Every vote decides the future of Goa and I urge the people to fight unitedly," she said.
Taking a dig at Congress candidates for their pledge not to defect the party, Sushmita Dev said, "The pledge taken by Congress members has an expiry date, which is the March 10. Once again it will be a repeat of 2017 where Congress members defected to the BJP in no time. We will go to any extent to defeat BJP since TMC is the only party that has the determination and strength to take on its might. We appeal to the people of Goa to usher a 'New Dawn in Goa."