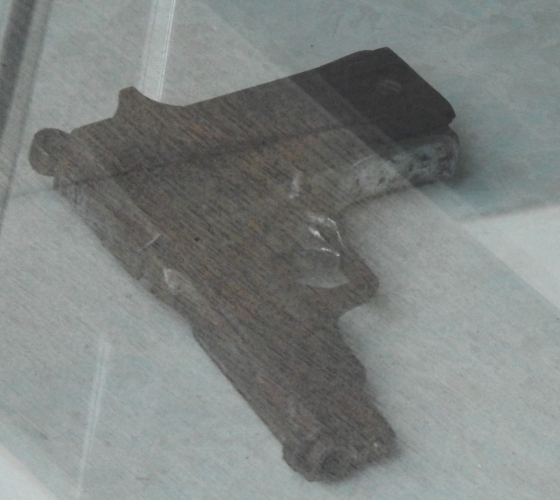 MARGAO
In a development that is expected to help the prosecution piece together crucial evidence in the Swapnil Walke murder case, the Crime Branch has finally managed to lay its hands on the bullet that had pierced the body of the young city jeweller when he was shot dead from point blank on September 2.
While the post mortem examination report had showed a through-and-through bullet wound, implying that the bullet fired at deceased Swapnil on his chest had come out, neither the Margao police nor the crime Branch sleuths could trace the bullet.
In fact, it was suspected that the bullet must have fallen down when injured Swapnil was helped by members of the public to a local clinic.
Crime Branch officials now claim that the bullet fired at Swapnil has been recovered from the jewellery shop during the investigations.
Sources in the Crime branch pointed out that the bullet was found near the battery of the inverter which was placed below the counter where Swapnil was around when he was shot at by the assailants.
Sources in the know say that Crime Branch Investigation Officer, PI CL Patil was at the Hospicio hospital on Wednesday to discuss the bullet that was shot at the deceased, which resulted in his death on September 2 morning.
It is learnt that the pistol, the live cartridges and the bullet that was fired at the deceased by the assailants have now been sent to the forensic laboratory for testing.
Sources informed that the recovery of the bullet is a major development for the Crime Branch in the ongoing investigations in the coldblooded murder of the young city jeweler. "The defense would have definitely raised the issue over the bullet that was fired by the assailants that had pierced the deceased resulting in his death. Recovery of the bullet has helped the investigating agency to piece through the crucial evidence in the investigations", informed a senior officer.
The young city-jeweller was shot at and was also stabbed by the assailants before he succumbed to his injures.
Meanwhile, the bail application filed by accused Omkar Patil is expected to come up before the South Goa Sessions Court next week. Hearing of the bail plea has been postponed at least on three occassions since the time the accused had move for bail.
Identification
parade of the
accused soon
MARGAO: The Crime Branch will soon hold an Identification parade before a Special Judicial Magistrate as part of the investigations.
Given that the Crime Branch has identified a couple of individuals, all members of the public, who had seen the accused making good their escape with a knife in their hand after committing the murder, the probe agency feels that identification of the accused by the witnesses will further strengthen the case in the court of law.