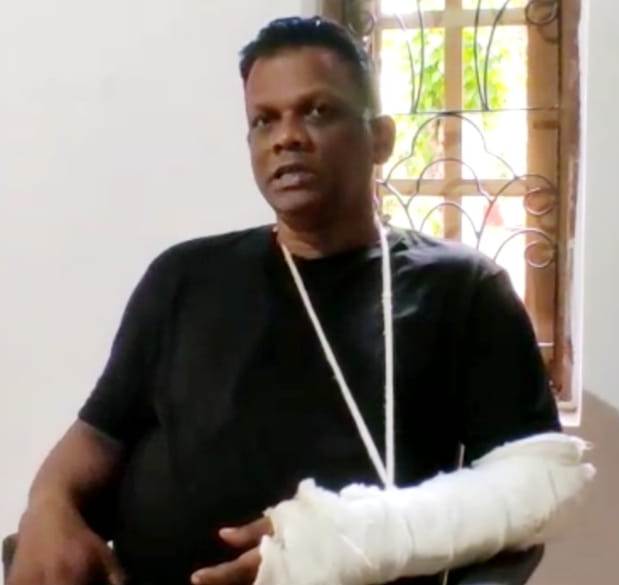 MARGAO
The Goa Police submitted in the High Court an impressive list of offences registered by the department against sand mining and the mafia involved in the illegal sand extraction across the State's countryside.
At Guirdolim village, an anti-sand mining activist and local panch member Franky Rodrigues has come under attack from whom he calls as those allegedly involved in the illegal sand extraction in the villages of Guirdolim, Chandor, Macazana, Curtorim and neighbouring villages.
In fact, Franky fears for his life after the attack on him in his village on Monday, leaving his hand fractured.
He told the media at his residence that those involved in sand mining are now after him for having exposed the illegal activity in the river passing through Chandor and Guirdolim villages. "The Maina-Curtorim police has registered an FIR, but those involved in the attack are intimidating the witnesses," he said, fearing that the mafia may even give a supari to anti-socials to silence him.
"I had been raising my voice against the illegal sand mining since the last two years as the mining carried out by suction pumps and machinery has left the protective bandhs devastated. The depth of the river at some places have gone down to five metres from two metres. The protective bandhs have given way. There's destruction of the tree cover with the trees dotting the river banks falling down along the stretch," he said.
Saying that the attack on him on Monday is connected to his fight against the illegal sand mining, Franky has said people engaged in the illegal sand mining have been only emboldened just because there's no action initiated by the concerned departments.
Franky said an attempt is now being made by the violators to dump the illegally extracted sand on the Guirdolim-Macazana-Curtorim border.