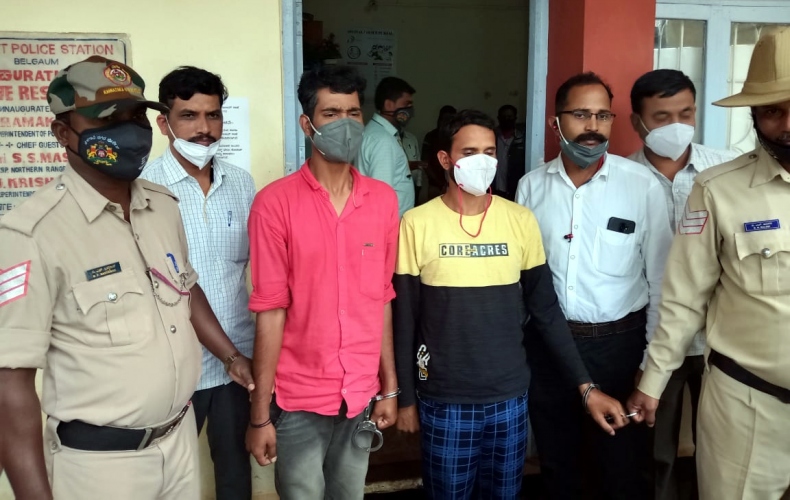 BELAGAVI
In a major breakthrough in cyber crime, the Belagavi Cyber Economic & Narcotic (CEN) Cell police arrested three persons, including a woman, on charges of siphoning off Rs 10 lakh from an account of a person from Belagavi.
The trio are suspected to be involved in conning people from different places in Goa, Karnataka and neighbouring states.
The amount has been siphoned off from the bank account of a retired BSNL employee. While a man and a woman have been nabbed from Jharkhand, one person has been arrested from Nasik in Maharashtra.
The duo was allegedly involved in similar crime in different parts of Karnataka and parts of Maharashtra, Goa and other states, as a total Rs 12.56 lakh has been recovered from them.
Briefing media persons on Tuesday, Deputy Commissioner of Police (L&O) Dr Vikram Amte said in a systematically executed cyber crime, Yallappa Narayan Jadhav of Kangrali Khurd village near Belagavi received a call on June 9, stating that his account needed to be updated.
The caller obtained the copy of Jadhav's Aadhaar Card and bank passbook, after which an OTP was obtained by the caller which was later used to siphon off the amount from Jadhav's account, DCP Dr Amte said.
The amount was withdrawn via 102 transactions, police said, after which Jadhav had lodged a complaint on June 10.
A team was formed under headed by CEN Police Inspector B R Gaddekar to track the culprits. It was found that the calls were made from Jamtara district of Jharkhhand.
Police seized a total of Rs 12.56 lakh in cash, five mobile sets and three debit cards. The suspects revealed having used 48 mobiles and 304 SIM cards and 50 different bank accounts.
Police said the duo was involved in online/cyber fraud in Belagavi, Bengaluru, Gulbarga and also in the neighbouring states.
DCP Dr Amte has appealed to people from the region to remain alert about the fraudulent calls as they could be the victims of such crimes.