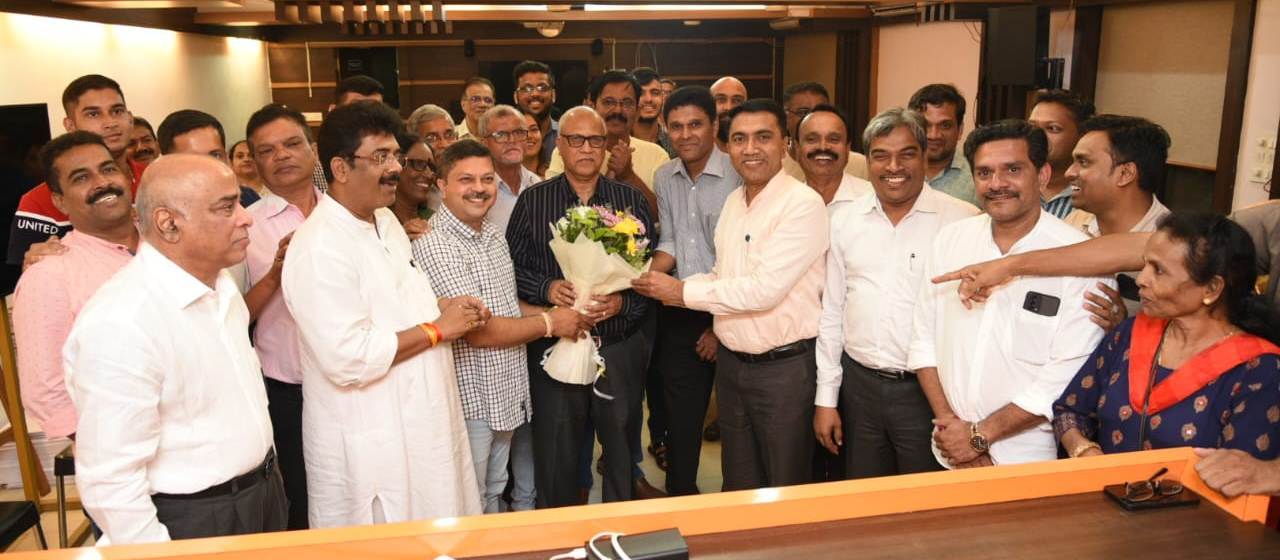 MARGAO
A week after his return to the party-fold, the BJP top brass comprising of Chief Minister Pramod Sawant and Party chief Sadanand Tanavade on Thursday went about the exercise in a bid to bring together Congress-turned-BJP MLA Digambar Kamat and party cadre after crossing swords against each other for the last 17 years.
Party Margao-based leaders, ex-DyCM Manohar Ajgaonkar, brother Rajendra, Margao BJP Mandal Rupesh Mahatme, long-time rivals Sharmad Raiturkar and Naveen Raikar attended the meeting, which was also attended by MLA Digambar Kamat.
The workers first had an interaction with the leaders, wherein they conveyed their sentiments as well as grievances over Kamat's entry into the party. Both the Chief Minister and the State party president assuage their sentiments, promising to put a system in place to ensure that the workers are taken into coincidence in all matters pertaining to the party and government.
Sharmad Raiturkar, who has been a strong opponent of the Margao MLA during the last 17 years, pointed out that the party workers had been opposing Kamat on certain ideology and principles. "Our fight against Kamat was not individual, but based on ideology and principles. Since he has joined the party, we hope that he will go by the party ideology and principles," he said.
Sharmad, however, said that since the party workers had been opposing Kamat for the last 17 years, it will take some time for the workers to gel with the emerging developments in the party.
"The meeting was called by the party leadership to address the concerns and issues arising out of Kamat's entry into the party. We have conveyed our sentiments to the party. The party leaders have heard our sentiments and concerns and have conveyed the same to the MLA," he said.
He further pointed out that the meeting sought to find a meeting point between the MLA and his workers and the original party workers and prepare a road map on how to take the party forward in Margao.
To a question whether the party workers from Margao had raised the issue of how Digambar Kamat was responsible for the downfall of the Manohar Parrikar government in 2005, Sharmad said, "All our sentiments were conveyed to the party leaders, who all lent their ears to our issues and grievances."
This is the first time that the BJP original workers from Margao and the Congress-turned-BJP MLA had an interaction after his entry into the ruling party. The meeting was called by the party leadership to ensure the MLA and the party organisation gels well in Margao constituency.