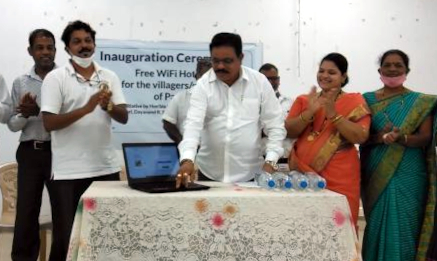 PERNEM
With assembly elections only a few months away, the BJP and MGP are locked in a high-tech battle with its coverage spread across the Mandrem constituency.
This battle is over the offer of free Wi-Fi services to needy students for online classes and while MGP leader Jeet Arolkar inaugurated the free service in Mandrem panchayat hall on Monday Mandrem MLA Dayanand Sopte inaugurated the free service at Parcem panchayat hall on Tuesday.
While inaugurating the free Wi-Fi service on Monday, Arolkar said a minimum of 50 students can avail of this facility by keeping a safe distance in the hall.
"Those who find it difficult to travel to the panchayat hall need not worry as the service will be available to students staying as far as 4 km. They only have to visit the Mandrem office for registration and password," said Arolkar.
Mandrem Sarpanch Subhash Asolkar, former sarpanchas Raghoba Gaude, Devendra Prabhusesai, Ambrose Fernandes, Serafina Fernandes and school board toppers in Pernem Namrata Salgaonkar and Akshada Barde were present at the event.
While inaugurating a similar free Wi-Fi service on Tuesday, Sopte took a dig at the MGP and said that some people were announcing various schemes despite not being an MLA just for the popularity.
"While my intention to start this facility is for needy students, others are providing these services based on the calculation of votes. Mandrem locals are smart and they will decide who is wise and who is selfish," said Sopte at the event.
He also assured that a similar free Wi-Fi service would be made available in Morjim and Mandrem within the next eight days.
Sopte also criticised those who opposed the laying of internet cables which took nine months to complete.
The ceremony was attended by Parcem Sarpanch Pragati Sopte, panch Mamta Satardekar, BJP Block President Madhu Parab, Tuem Sarpanch Suhas Naik, Virnoda Sarpanch Mangaldas Kinlekar, Parcem Deputy Sarpanch Ajit Morajkar, GTDC Director Sudesh Sawant, Agarwada Sarpanch Pramodini Agarwadekar and former sarpanch Prajakta Kannaik.