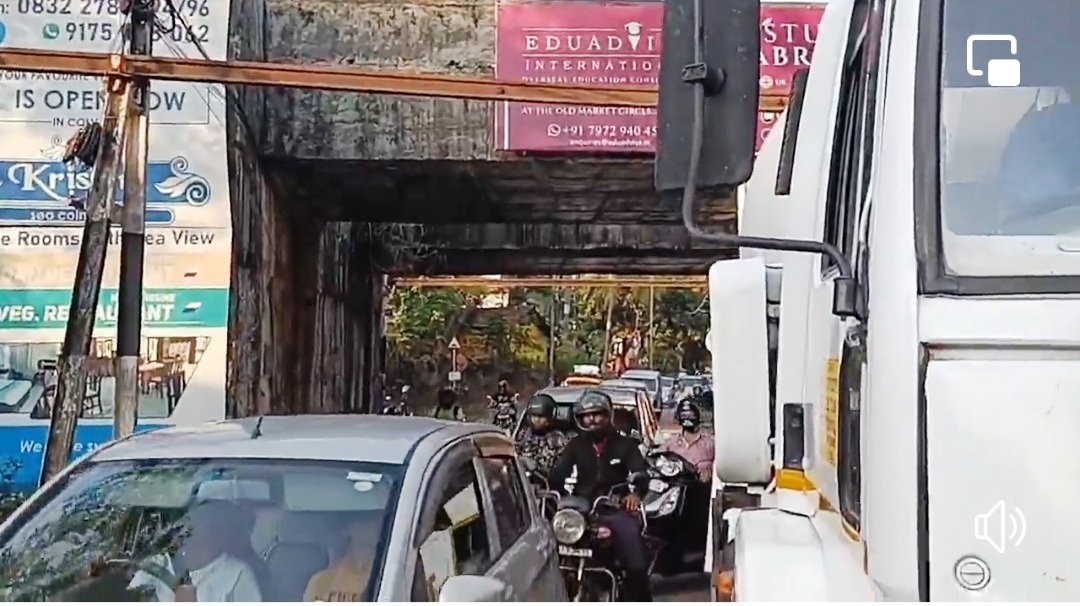 MARGAO
Traffic on the Margao-Colva road was disrupted for a long time on Friday evening after a concrete cement mixer crashed against the height barrier erected at the road underpass at Mungul.
Huge serpentine queue of vehicles were seen lined up on both side of the underpass since traffic could move only through one lane, while the other lane was blocked by the ill-fated vehicle.
Locals claimed the vehicle entered the underpass at the railway over bridge, Mungul from Margao side, but is believed to have crashed on the height barrier on the other side of the underpass.
Resultantly, traffic could not move quickly along the busy Margao-Colva, creating traffic snarls along the road.
Margao Municipal Councilor representing Mungul ward, Francis Joannes has called upon the traffic enforcement machinery to come down with a heavy hand on vehicles entering the underpass despite the height barrier being in place.
"We have observed that there's at least one or two incidents of heavy vehicles entering the underpass despite the height barrier and gets stuck up.
"Since the vehicles try to enter the underpass despite the height barrier, they should be challaned heavily as a deterrent for others", he said.
The Councilor said it would take a long time before traffic movement is restored on the busy road, saying the mechanical concrete mixer will be removed only after a crane comes at the spot to remove the vehicles.