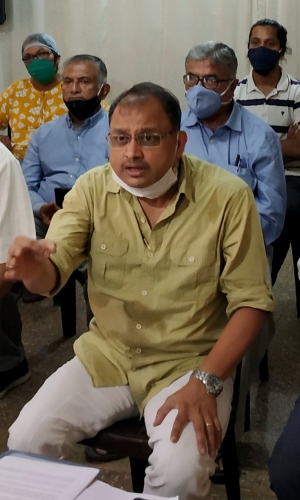 Photo Credits: Agnelo Pereira
MAPUSA
Fearing attempts by the government to bring a legislation to regularise illegal constructions on communidade land, the comunidades in the State on Wednesday said any attempt to encroach on the functioning of the age-old institution would be met with stiff opposition including legal recourse.
The comunidades also slammed the government for trying to mollycoddle the migrants who have illegally settled on comunidade land in various parts of the State.
"The comunidade bodies, their components and all Goans see this as a clandestine attempt by the government to bring in and regularise all the migrants as possible vote banks and dilute the Goan identity," said Tulio de Souza, President of Guirim comunidade.
The Guirim comunidade president along with the representatives from several other comunidades was addressing a news conference in Mapusa.
The comunidade representatives later met the Revenue Minister Jennifer Monserrate and handed her a representation condemning and opposing the government move.
De Souza sought to remind that comunidades were autonomous village level bodies envisaged by the Code of Communidade in force and the government only provides administrative tutelage at the expense of the comunidades.
"The government has no power to legalise illegal constructions existing on comunidade land as the comunidade bodies are the absolute owners of the land," he said.
He further disclosed that an earlier attempt by the government to regularise illegal constructions on comunidade land through an amendment of Article 372-A in 2001 fell flat as it was met with stiff opposition from a united communidade bodies in the State.
The comunidades also said by regularising the illegal houses on communidade land, the government was cocking a snook against its own TCP Act.
"The TCP Act prohibits construction in wet and agriculture land in non-settlement zones while there are several rules and regulations to follow to carry out a construction in settlement zones. So those who have constructed in comunidade land don't have to follow TCP rules and regulations? Will you violate the TCP Act to regularise illegalities? Then shut down the TCP office. We do not want the TCP law," said Venzy Viegas, President of Carambolim comunidade.
Condemning the government's attempt to give a backdoor entry to migrants, Viegas said the comunidade land has to be protected at all cost.
"Is this bill being passed in the interest of the Goans? Or does the government want to make the outsiders who have come and settled here into a vote bank?" he queried.
Oldrin Pereira, president of Olaulim comunidade, Celestino Noronha of South Goa comunidade Forum, Hector Fernandes, Arminio Ribeiro and others also spoke.