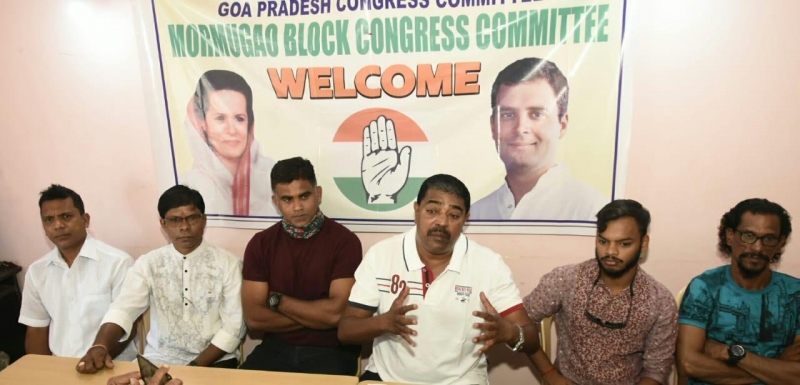 Photo Credits: Vikram Nayak
VASCO
GPCC Vice President Sankalp Amonkar on Sunday hit out at the BJP Government and Health Minister alleging that the Chicalim Sub District hospital was being privatized.
Stating that BJP was on a mission for privatization for commission, Amonkar said that BJP in Goa and centre were out to privatise the public sector and even farming sectors were not spared . Amonkar said that he was surprised and shocked that BJP has decided to privatise Chicalim hospital that caters to entire Mormugao Takuka.
"The Chicalim SDH is being privatized and demarcation is going on and series of meetings have begun between Government and doctors and date is also finalized in April. Recently crores of public funds were spent to expand and get new technology for Chicalim sub district hospital and now it is being offered to a private doctor in Vasco," said Amonkar.
"Goa Dairy was also privatized in Goa and it looks like BJP is working for crony capitalists friends. It is sad that Chicalim cottage hospital is being privatized and the poor will have nowhere to go if the Chicalim SDH begins paid services at a time when the pandemic has already finished the people. Even the police will be forced to send accidents victims to GMC and Hospicio," said Amonkar
"The health minister is fully responsible for this mess and the health department has made loads of money even during Covid. The canteen and pharmacies along with house keeping and maintainence has already been privatized and in the same fashion health minister has set his eyes on privatizing Chicalim SDH. I want to ask the 4 BJP legislators of Mormugao taluka if they are unaware of this move to privatise Chicalim SDH," said Amonkar.
"People have already opposed the privatization of Azilo hospital and South Goa District hospital. I appeal to people to come out and oppose the Chicalim SDH privatization. The Congress party will oppose this move tooth and nail and in public interest, we will have to fight this privatization," said Amonkar.