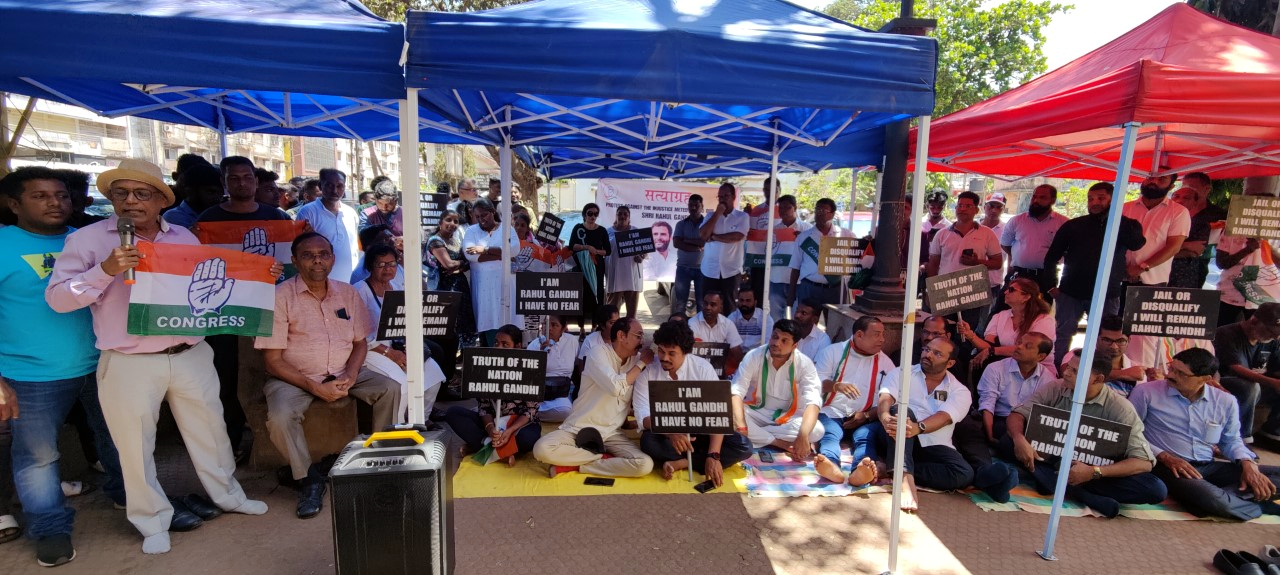 Photo Credits: Vikram Nayak
VASCO
GPCC President Amit Patkar, former Vasco MLA Carlos Almeida, Capt. Viriato Fernandes, Olencio Simoes, other Congress leaders and workers on Friday morning sat on a Satyagraha outside the municipality building as a token to protest against the injustice meted out to their leader Rahul Gandhi.
GPCC President Amit Patkar said the Satyagraha Movement was started from Old Goa near the Gandhi circle to protest against the injustice to the people by the BJP Government.
"In 2019, Gandhi addressed a meeting in Kolar ahead of Lok Sabha and spoke about Mehul Chowksi, Nirav Modi and Lalit Modi who have fled the country after duping Indian banks. BJP used this opportunity to file a false case in Surat instead of Kolar and hatched a conspiracy to harass our leader," said Patkar.
"On February 7, when Gandhi questioned the relation between Modi and Adani in the parliament, the case in Surat which was stayed earlier was revived, fast-tracked and judgement is given in a month's time with maximum penalty. This is done because as per law, a person can be disqualified if he is convicted for two years. Within 24 hours, Gandhi was disqualified from the parliament and he was told to leave his accommodation within 2 days and this only proves that BJP has no answers for Gandhi's questions," said Patkar.
Patkar alleged that the State government was being pressurised to take up double tracking of Railways.
"Double tracking is being done without land acquisition and the Government is filing cases on people protesting the project. The common man is only being suppressed and we want to say that the Voice of Gandhi will not stop with his disqualification. All the Congress workers across the country will raise the voice and we will keep questioning the BJP on how the banks are being pressurised to give loans to Adani," said Patkar.
Patkar added that the Satyagraha Movement will be carried out across all 12 Talukas.
Other leaders who spoke on the occasion were former Vasco MLA Carlos Almeida, Olencio Simoes, Savio D'Silva, Captain Viriato Fernandes and Beena Naik.