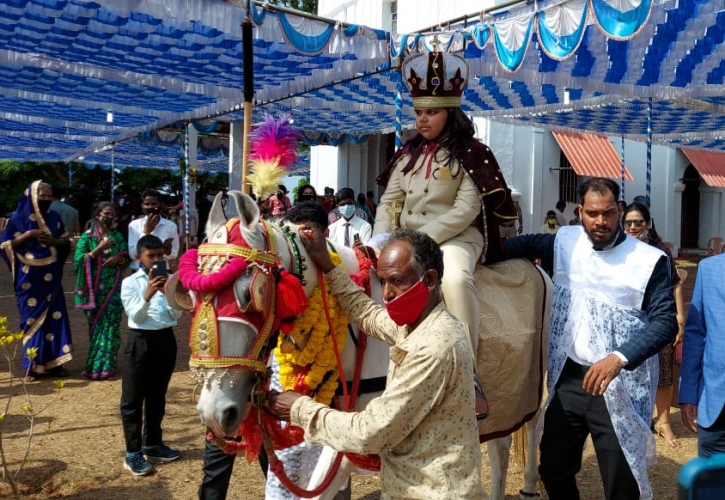 VASCO
The traditional depiction of three boys as Three Kings and riding on horses to the Chapel of Our Lady of the Mount in Cuelim was enacted on Wednesday as part of the celebration of the Feast of Epiphany, also known as the Feast of Three Kings.
However on account of the Covid pandemic, only a few devotees were permitted to participate in the Mass and strict social distancing norms, wearing of masks, sanitisation along with thermal checks were followed during the Novena and Feast.
Makeshift stalls with various Goan delicacies and sweets were not permitted during the feast this year.
According to tradition, three young children, one each from villages of Cansaulim, Arossim and Cuelim, represent the Three Kings who had gone worship the Baby Jesus.
The three children dressed as the kings arrive on horses amid a musical procession through three different paths and meet at some distance away from the chapel. The three young kings then participate in the Mass along with other devotees at the chapel.
This year, Ashneel Morais (Cuelim), Jeremiah Hendricks (Cansaulim) and Jonas D'Costa (Arossim) were given the privilege to represent the Three Kings during the feast.
Speaking to reporters, Cansaulim Sarpanch Jose Maria Furtado said the Feast of the Three Kings was one of the biggest festivals in the village but the feast could not be held on a grand scale this year on account of the Covid pandemic.
"The feast had been celebrated for around 450 years. We prayed to Our Lady of Remedios to protect the world from the Covid pandemic. We also thank the priests and the Confraria for having managed the feast while adopting all the SOPs," said Furtado.
Fr Jean Da Cruz Fernandes told reporters that the traditional feast is very dear to the villagers of Cansaulim, Arossim and Cuelim
"Though we are in a pandemic, we could not do away from celebrating the feast and we decided to try and be careful and observed all the guidelines and SOPs all through the Novena and feast."
"We celebrated eight Masses on Wednesday to accommodate smaller congregations of devotees. We put forth our difficulties and people have been kind enough and cooperative to understand and help us out. Our volunteers have done an excellent job to help devotees to observe the SOPs," said Fr Fernandes.