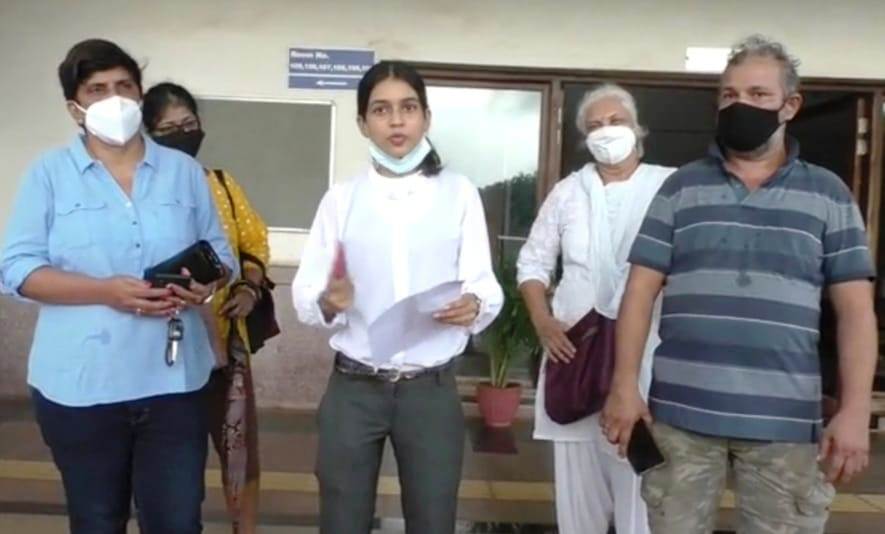 Citizens led by Adv Seoula Vaz, Ethel Lobo and others at the South district Collectorate.
MARGAO: International Democracy Day was observed on Wednesday with activists and civil society making a fervent plea to the South Goa district Collector to lift what they called as the unfair ban on citizens and restore liberty.
A group of citizens led by Adv Seoula Vas, Ethel Lobo, Radha Kavlekar and others visited the district Collectorate on Wednesday evening and submitted a memorandum demanding lifting of curfew on citizens extended vide orders under section 144 of the Code of criminal procedure.
In the petition, the citizens drew attention of the Collector that orders under section 144 of the Cr PC prevailing whereby public gatherings and active interactions are sought to be prohibited owing to prevalent Covid cases.
The citizens pointed out that on the one hand it has come to light that at the Goa border at Patradevi interstate travellers are being allowed to enter the State without Covid negative RT-PCR and vaccination certificates, and inside Goa citizens are subject to restrictions and prohibitions. "When the State has achieved 100 per cent vaccination (at least first dose) as reported by the Chief Minister, question arises as to why any need at all is felt to impose restrictions, prohibitions and curfew", the petition stated.
Adv Seoula said it appears that the 'Third Wave' scare is conveniently reserved only for some activities like Government projects, public works and industry related as if voicing out and justice are not as essential as commerce, industry, economy and matters of the polity.
"When gatherings are allowed with 50% capacity as per notified order, then how occasion arises to decline permission to hold rallies and processions. The right to protest is a fundamental right as recognised by the Constitution of India under Article 19 and liberty is part of the basic structure of the Constitution enshrined in the preamble. Then if such rights are 'fundamental, how is this Government and administration classifying it as 'inessential'? This is an abusive interpretation of the Disaster Management Act to suppress public voice and liberty", she added.