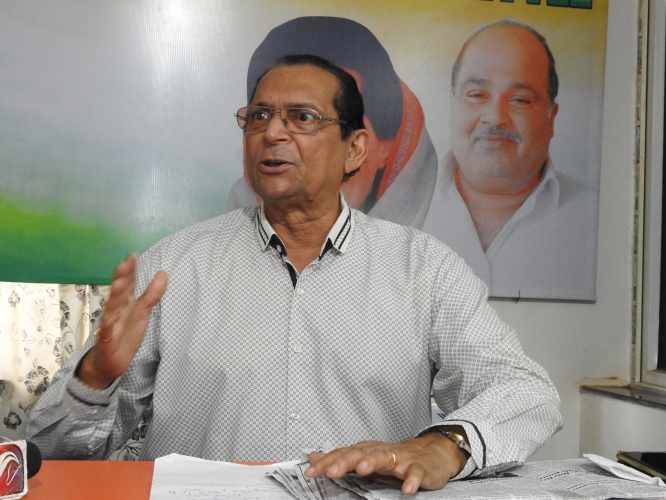 Photo Credits: Santosh Mirajkar
MARGAO
In a development indicating that senior leaders too are not in favour of alliances with like-minded parties, senior Congress leaders and South Goa MP Francisco Sardinha on Wednesday said he fully subscribes with the views and opinion of party rank and file that the Congress should not have any truck with political parties to unitedly fight the 2022 election.
In fact, the MP was categorical in saying those who had betrayed the party in 2017 election should not be considered for an alliance, saying there's no guarantee that these parties will honour the alliance dharma after the polls.
He exuded confidence that though some leaders have left the party to join the new parties which have recently entered the state, the party workers and the people are solidly behind the party and will work wholeheartedly to bring the party to power in 2022.
Addressing the media, Sardinha pointed out that he has already conveyed to the Party High Command that the Congress should go it alone in the ensuing polls. "I have been receiving feedback from the party rank and file that the Congress should go it alone in the coming election. I fully subscribe to the views and opinions of the party workers and supporters that Congress should not go for any alliance", he said.
Without taking any names, the MP said that certain parties had betrayed the party in 2017 after forging an alliance with the Congress in that election. "Though there was no formal alliance, the party did not field candidate in some of the seats contested by that party", he said.
On Congress leaders leaving the party to join the TMC, Sardinha said certain leaders might have left the party out of frustration. Saying everyone wanted Mamata Didi to win the Bengal election against the BJP. In Goa, the Congress is battle ready to take on the BJP, Sardinha made a fervent plea to the voters not to split the votes by voting for these new parties.
This is perhaps the first time a senior party leader has come out openly against tie-up with any of the political parties. It assumes significance and comes against the backdrop of the fact that AICC Goa desk in-charge, Dinesh Gundu Rao had said the party is not averse in aligning with like-minded political parties, while Congress election observer, P Chidambaram saying that his task is to make Congress battle ready in all the 40 constituencies for the moment.