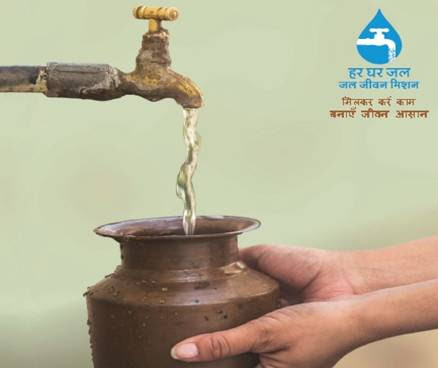 PANAJI
A survey report prepared by the panchayat department has contradicted Goa's distinction of attaining the first 'Har Ghar Jal' status in the country as announced by Jal Shakti Ministry recently. Chief Minister Pramod Sawant had shared this news during a recent function where he said that not a single household in rural Goa was without a potable water connection.
Contrary to the claims of Sawant, the survey paints a different picture which says around 15 thousand households in the State are without water connections. The Chief Minister had in April stated that around 87.11 percent of the households in Goa had potable water connection which peaked to 100 per cent going by the recent announcement of Jal Shakti Ministry.
Jal Shakti Minister Gajendra Singh had announced that 2.63 lakh houses have been given tap connections. As per the ministry's claims, around 1.65 lakh houses in North Goa and 98,000 houses in South Goa have been connected with potable water connection.
However, the ground reality seems to be completely different when compared with the survey of the panchayat department.
The Goa cabinet in its meeting one month ago had approved implementation of central government's scheme 'Har Ghar Nal Se Jal' scheme to provide potable water via taps to every household. Soon, the Public Works Department (PWD) started working in this direction and prepared a report. As per PWD department's report around 30,000 houses were without water connections. However, the implementation of the central govt scheme was wrapped up before it could start.
Later the State government entrusted the Panchayat Department with the task of preparing a report. As per the report prepared, 15,000 houses still needed water connections. But the govt went on to make the claims of 100 per cent water connections in rural Goa households.
The central government has sanctioned around Rs 68.39 crore to Goa under the 'Har Ghar Nal Se Jal' scheme. The state and centre have 50 per cent revenue share under the scheme, however, before implementing the scheme, the government announced that the state had achieved 100 per cent water connections.
This is not the first incident of making tall claims even before realisation of relevant projects. The government had earlier announced that Goa had become open defecation-free. The govt had to hide its face when it was learnt that around 17,000 applications were received, some even paying advance amount for bio-toilets which no one has received till date.
Meanwhile, Congress has challenged the government to prove its claim of 100 per cent potable water connections in the State.
"Jalshakti Minister Gajendra Singh Shekhawat should visit Goa. We will show him the problem faced by people in rural areas. This is like rubbing salt on the wounds," said North Goa Congress President Vijay Bhike.