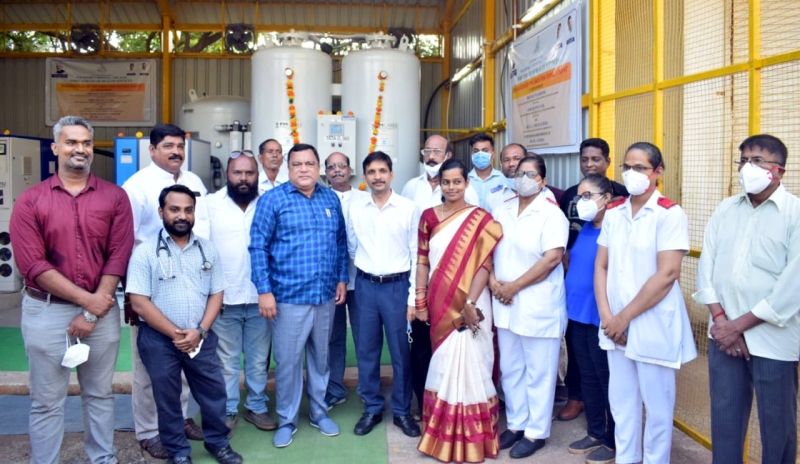 Photo Credits: Vikram Nayak
VASCO
Panchayats Minister Mauvin Godinho on Wednesday appealed to Chief Minister Pramod Sawant and the health minister to confirm the services of all additional medical staff at the Chicalim Sub District Hospital (SDH).
Godinho was speaking to reporters after inaugurating the Pressure Swing Adsorption (PSA) Oxygen Plant under the PM Cares fund at the Chicalim SDH.
"There are drivers, nurses and other medical staff working at the hospital and I am paying them from my pocket till date as this hospital needs additional staff. I want the government to confirm their services or else, they will be laid off and services at this hospital will collapse. I appeal to the CM to direct the officials concerned to issue these orders soon," said Godinho.
Godinho said despite having all facilities, the hospital cannot use the operation theatre due to lack of staff.
"I get many complaints that people are forced to go to other government hospitals in case of surgeries. I can get equipment for the operation theatre, but we need more staff like surgeons, nurses, anaesthetist, and other staff," said Godinho, while assuring that the operation theatre is put to use at the earliest.
The minister said the Chicalim SDH has been equipped with oxygen supply to cater to emergencies.
"This hospital is one of five places in the State where a PSA Oxygen Plant has been set up under the PM Cares fund. As of now, the plant can cater to a minimum of 10 beds for oxygen supply and we will soon have this facility extended to 60 beds, before ultimately moving to 100 beds in the hospital," he added.