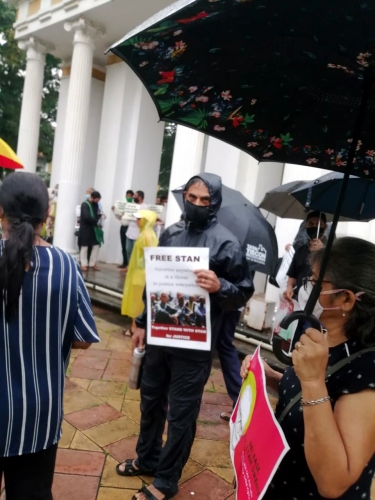 PANAJI:
Over 200 Goans converged at the Azad Maidan on Monday evening despite the inclement weather in solidarity and to demand the release of 83-year-old Jesuit priest Fr Stan Swamy, incarcerated in the infamous Bhima Koregao case.
Goa's Jesuits, collaborators and sympathisers marched in solidarity holding placards and posters around the periphery of the historic maidan in the capital city.
Some prominent politicians, including GPCC chief Girish Chodankar, former minister Aleixo Sequeira, AAP's Cecille Rodrigues among others joined the protest.
Fr Swamy, who for years has been fighting for adivasi rights in Jharkand, was arrested from Ranchi and taken to Mumbai where more than a dozen intellectuals, lawyers, academicians and others are languishing in jail in the dubious case related to the January 2018 riots in Maharashtra being investigated by the NIA.