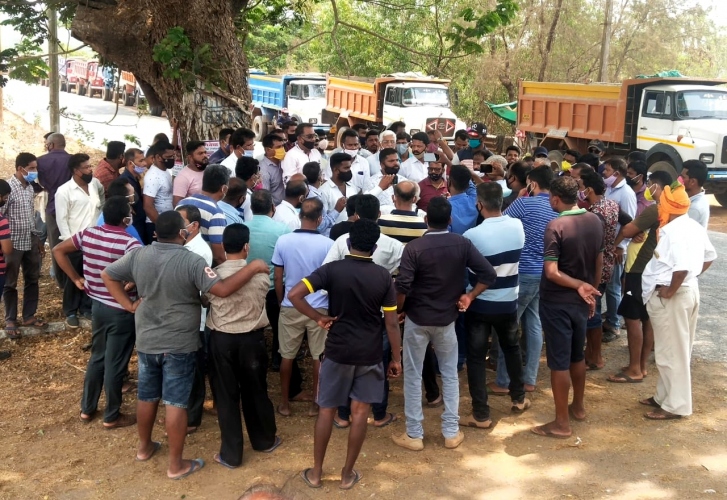 PERNEM
Members of the Pernem Truck Owners Association (PTOA) on Wednesday parked dozens of their trucks along the highway at Nhaibag-Poraskade in Pernem in protest and threatened to block trucks arriving from Maharashtra with material related to government projects from Thursday onwards.
Accusing the State government of failing to meet their demands, the truckers said they want increased rates for trips to the Mopa airport construction site and allocation of trips to local truck operators to carry raw material for the proposed Ayush Hospital and other government projects.
There are over 150 truck owners registered with the PTOA.
PTOA President Milind Shetye, Secretary Utkarsh Teli and other members complained that despite constant requests to the contractor and Deputy CM Babu Ajgaonkar about giving local truck operators priority in the allocation of trips, they had been ignored and trips were given to operators from Maharashtra.
According to sources, the contractor assigned to the Mopa airport construction project has been hiring several trucks from Maharashtra at a lower rate as compared to the rates demanded by the Pernem truck operators. This has, however, irked the local truck operators and they have now threatened to block trucks arriving from Maharashtra.
Several leaders from various parties went to meet the protesting truck operators, including Goa Forward leader Adv Jitendra Gaonkar, former Mopa sarpanch Rupesh Parab, Mission for Locals leader Rajan Korgaonkar, MGP leader Pravin Arlekar, former ZP member Tukaram Harmalkar and Umesh Talvanekar.