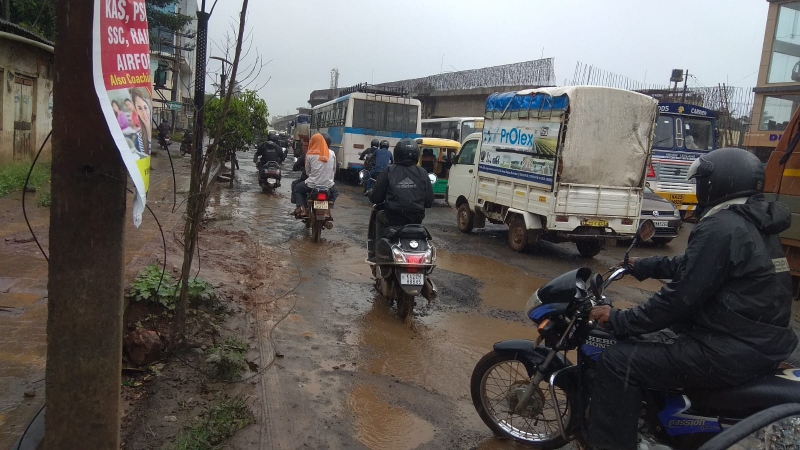 Photo Credits: Louis Rodrigues
BELAGAVI
Thousands of commuters from Belagavi including the tourists from Goa have expressed their displeasure over the dilapidated road at the 3rd Railway Gate in Belagavi. About 500 metres of the stretch of the road, full of several potholes that has made life miserable for commuters, welcomes Goans on arrival to their favourite shopping destination.
Two-wheeler owners are the worst among the sufferers as the heavily potholed road is causing minor accidents. Frequent traffic jams are witnessed throughout the day causing huge convenience to the citizens.
Heavy rains that are lashing the region have made life more miserable as these water filled potholes are causing accidents, especially in the nights while the vehicles are getting damaged. As the heavy vehicles pass through this stretch, dirty water splashes on the two- wheeler riders, causing anger and frustration.
Citizens are left in lurch as authorities have turned a deaf ear to their pleas, more so as this issue has been highlighted on various media platforms.
Despite this issue being brought to the notice of authorities, neither the elected representatives nor the officials are paying attention to the problems faced by the citizens and have turned a blind eye towards the civic issue.
"Now that the city corporation elections are over, and as the Goan tourists are also are arriving in big numbers, we believe that at least the newly elected corporators from the concerned ward would come to the rescue of the commuters and take the PWD/ Railway authorities to task and bring some relief to citizens," some commuters lamented.