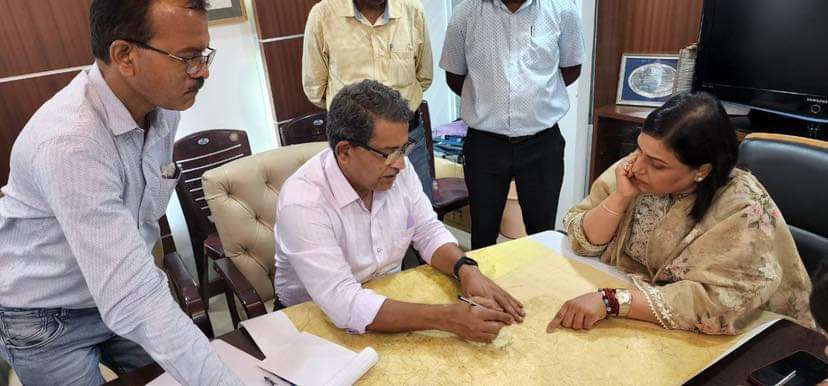 Photo Credits: Uday Sawant
VALPOI
Poriem MLA Deviya Rane has launched special efforts to solve the problem of drinking water in many rural areas of Sattari taluka.
Efforts have been initiated to prepare a reference proposal for setting up a special project on Valvanti river at Poriem to supply water in Honda, Morle, Pisurle, Bhironda panchayat areas of Sattari taluka. If permissions are received from the Irrigation Department, a new project will be set up here and drinking water will be supplied to these panchayat areas. This will reduce the stress on the Dabos water project by about 40 per cent.
Many rural areas of Sattari taluka are facing severe shortage of drinking water at present. Almost all the rivers in Sattari taluka have abundant water reserves. However, it needs to be disseminated to various rural areas through proper management. Several meetings were held in this regard.
A meeting was held with the officials of the Irrigation Department two days ago. The meeting was attended by Pramod Badami Chief Engineer, Irrigation Department Executive Engineer KP Naik, executive engineer Bicholim, Shailesh Pokale, Valpoi Assistant Engineer, Irrigation Department, Aziz Shah Pawan Warak.
The meeting discussed in detail the vision of creating permanent drinking water facilities in different parts of Sattari taluka. If a new project is set up at Poriem through this discussion, this project will provide satisfactory water supply to the villages of Poriem, Morle, Honda, Bhironda and other panchayat areas.
The Irrigation Department has given the green light for cooperation in this regard. If 15 MLD capacity water project is set up on this reservoir, permanent water supply will be available to the villages in many panchayat areas through this project.
Meanwhile, according to the information received from the department, if the people of Sattari taluka want to make full use of the water resources of the Valvanti river for drinking purposes, it was necessary to set up a special project. The Irrigation Department has shown its readiness to go ahead with the project. However, if the public water supply department cooperates, it will be an important help in solving the drinking water problem in Sattari taluka, he said.