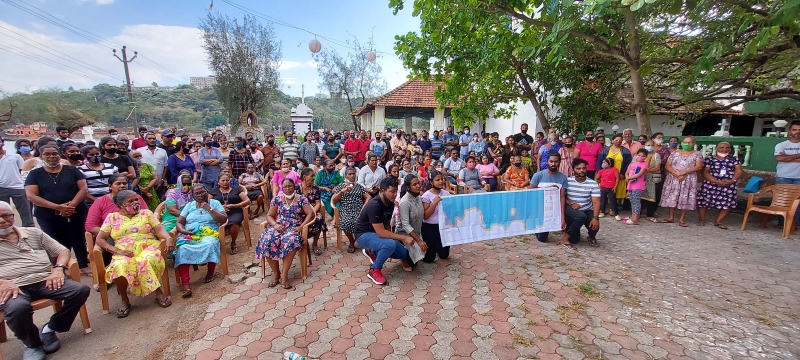 VASCO
Residents of Sao Jacinto Island, which falls in the jurisdiction of Chicalim, have strongly opposed the draft Coastal Zone Management Plan 2021.
Residents on Tuesday afternoon expressed shock to see the draft CZMP, which was put up for display at the Chicalim panchayat.
In a press statement, the residents of St Jacinto Island said scrutiny of the draft CZMP had revealed glaring discrepancies, with houses of the villagers, mostly belonging to the fishing community, not being shown in the plan.
"This is contrary to what the government had assured the people while preparing the draft in 2019 that all houses would be shown when the final draft would be put up for scrutiny prior TO finalisation."
"Moreover, the depiction of the island having been shown as under Port Limits of Mormugao Port Trust (MPT) came as a rude shock, as this could be an ulterior motive on the part of the government to lay the foundation of an evil and mala fide plan to evict villagers under the garb of CZMP and hand over the village to MPT and thereafter to real estate lobby in the near future."
"With the Parliament having passed the Major Ports Authority Bill 2020, wherein MPT has been bestowed with enormous powers, which even supersede the existing rules and regulations of local bodies, and even state laws, we are worried that we may be evicted from our own island," added the press note.
The villagers claimed that during the Gram Sabha in August 2019 to discuss and prepare the CZMP 2021, the villagers had unanimously passed a resolution to protect the island and the coast, including protection to the rich marine biodiversity, especially the windowpane oysters, clams (Tisreos), crabs, various species of fishes, etc.
"It is pertinent to note that families belong to the fishing community have been living here for generations, some tracing back to six generations. Some structures on the Island, including a Chapel, are very old and date back to 1731 and hence, should be declared as a heritage structure," the press note added.
The villagers have resolved to protect and preserve their island at all costs.
"Hence, to assure us that there is no ulterior plan on the part of authorities, as a first step of confidence building, we demand the removal of the MPT jurisdiction shown on the plan and display of our houses and other structures," they added in the press note.