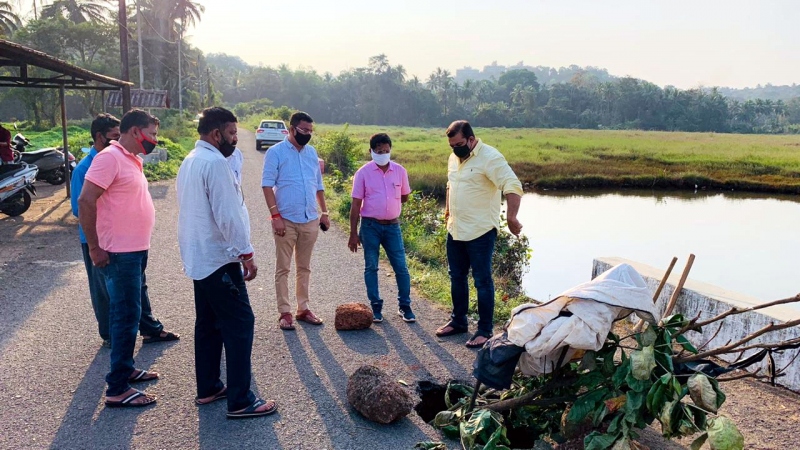 Photo Credits: Anil Shankhwalker
PORVORIM
A sinkhole has developed on the Paithona-Donwado road at Salvador do Mundo and has posed a serious threat to motorists and pedestrians, especially at night.
According to sources, a scooter rider had a fall due to the sinkhole on Tuesday night and sustained minor injuries in the mishap.
On hearing about the sinkhole on the road, Porvorim MLA Rohan Khaunte inspected the sinkhole and summoned PWD officials to the site, while directing them to repair the sinkhole immediately.
Speaking to reporters, Khaunte said the State government had shown little interest in developing infrastructure at villages in Porvorim constituency.
"There are 10 culverts in Porvorim constituency. I had written to the State government in June 2014 to construct all these culverts with a proper plan. I had also requested the government in 2017 to undertake beautification of the Torda creek, Salai creek and Paithona creek."
"However, the government has not initiated any steps to construct the existing culverts with proper plan or to beautify the creeks."
"These culverts connect different wards in Salvador do Mundo and hence, these creeks need to be strong enough to withstand the pressure of vehicles," said Khaunte.
He also informed that a small bridge at Torda has become very week and could collapse at any time.
"This is the bridge which connects Porvorim and Salai. It is the government's duty to take care of basic infrastructure to ensure development of villages."
"However, Porvorim has been getting step-motherly treatment from the government. It is high time the government pays attention to basic infrastructure of villages in Porvorim constituency," said Khaunte.