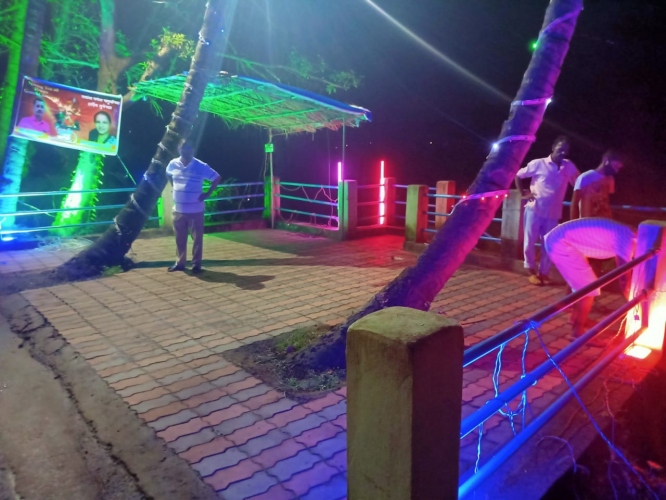 Photo Credits: Vikram Nayak
VASCO
In a classic example of communal harmony, the Christian community in Velsao village led by social worker and former panch Roquezinho D'souza illuminated the velsao lake where Hindus carry out the visarjan of Ganesh idols and if that was not all, the Christian community also participated in the Ganesh Chaturthi visarjan activities in the village on Tuesday night.
The entire lake area and its periphery was decorated by colourful lights and brightly illuminated with huge focus lights for the very first time in an initiative taken by Roquezinho D'souza.
D'souza said that he had been to Baina on Friday to meet his relatives and was inspired by the illumination done at the beach for the Ganesh visarjan.
"After I came back to Velsao, I spoke to a few Hindu friends who had invited me to their house for Ganesh and told them about the illumination at the Baina beach. We have been doing Visarjan at the velsao lake here for many years but there was never any decoration and illumination done here. I then took the permission of the Hindu brothers and immediately within 2 hours got in touch with a contractor in Cansaulim and got the entire lake illuminated with decorative lights and focus lamps," D'souza said.
"While we may differ by religion, we are all one as humans and as soon as the village got to know about my plans, a lot of other villagers joined hands and appreciated the initiative about the Christian community doing something for Hindu brothers of the village. We have around 40 to 50 Ganesh idols that are immersed in this lake and the entire village got a festive look during Ganesh Chaturthi," he added.
"As a President of the Veslao Pale Tolem Xetkar Association I also got the lake water blocked for the Visarjan of the Ganesh Idols . I have also decided that in the future, i will illuminate the lake during every festivals so that entire village gets a festive look to depict that Hindus, Christians and Muslims live in harmony and unity in the village," said D'souza.