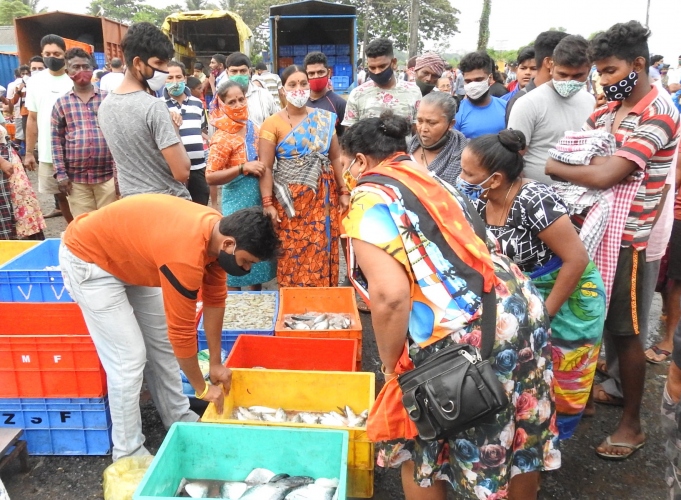 Photo Credits: Santosh Mirajkar
MARGAO
A group of retail fish market vendors descended on the wholesale fish market on Thursday morning to protest against the sale of retail fish in the wholesale fish markets.
The retail fish vendors warned that they will not be left with any option than to do business in the wholesale fish market.
This is the second item in recent weeks that the SGPDA retail vendors went to the wholesale fish market to protest against the retail sale of fish in the market.
Retail vendor Fatima said the retail fish vendors in the SGPDA retail fish market are facing hardships for want of business with the retail fish business going unchecked in the wholesale fish market.
She said the SGPDA retail fish vendors will have no option than to go to the wholesale fish market to carry out retail fish business.
The retail fish vendors and a couple of wholesale fish traders came face to face as the former questioned their activity and the later saying they also come to the market to earn their livelihood.
Meanwhile, as the stalemate between the wholesale fish traders and the sopo contractor continues in the market, the fish traders has sought the intervention of the Chief Minister Pramod Sawant to resolve the issues facing the wholesale fish market.
In the letter signed by Association secretary Joaquim Borges, the traders requested the Chief Minister to resolve the issues and take steps to revert the fees levied in the market pre-COVID pandemic.