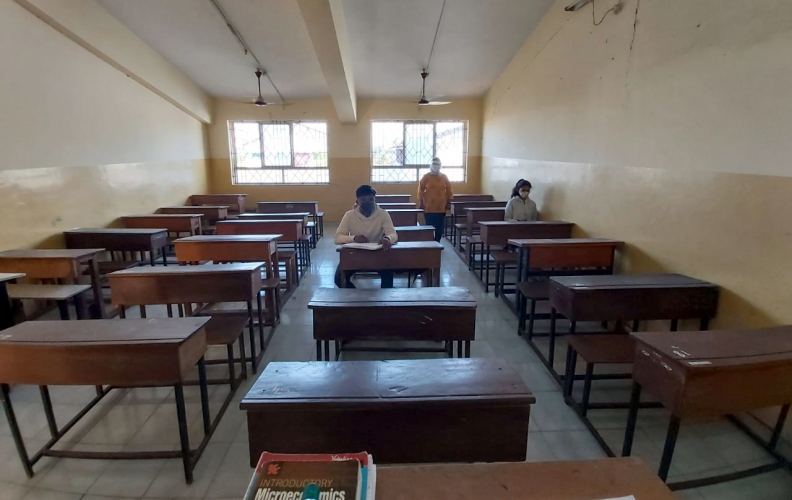 MAPUSA
The government's decision to reopen schools and higher secondary schools evoked poor response in Mapusa.
Although some schools registered reasonably good attendance but these were outnumbered by schools where the attendance was in single digits.
Only three students of Class X came for the classes in St Mary's High School, a reputed girl's school in Mapusa, while just 14 attended classes in St Britto's High School, a reputed boy's school.
Similarly, only 40 of the 300 students who were invited for classes attended on Saturday at D M Kushe HSS at Assagao near Mapusa.
"At the PTA meeting, majority of parents expressed reservations and were not in favour to send their children to school. They preferred to stick to the online classes," said an executive member of the PTA of St Mary's HS requesting anonymity.
Most of the schools and HSSs have taken appropriate steps in sanitising the classes and re-arranging the desks to maintain distance among the students.
"Imagine lecturing only two students in a class. It's utter waste of energy and resources," said a teacher of the D M Kushe HSS. But a few schools reported good attendance.
"We had invited 89 students, of which 59 reported to the school today. Classes were conducted from 7.50 am to 12.55 pm by following the SOPs," said Gayatri Shirsat, Headmistress of G S Amonkar School.
She said the school has a total of 182 students in Class X.
"We have decided to invite 50 percent of students on every alternate day to avoid crowding," she said.
Sources informed that 90 percent of SSC students reported to school in Saraswat Vidhyalaya High School in Khorlim and 70 percent of Class XII students attended classes in Purushotam Walavlekar HSS in Khorlim.
Similarly, 50 percent Class X students attended classes in Janata High School in Mapusa.