No move to go ahead with ganja cultivation proposal, says the Chief Minister on floor of Assembly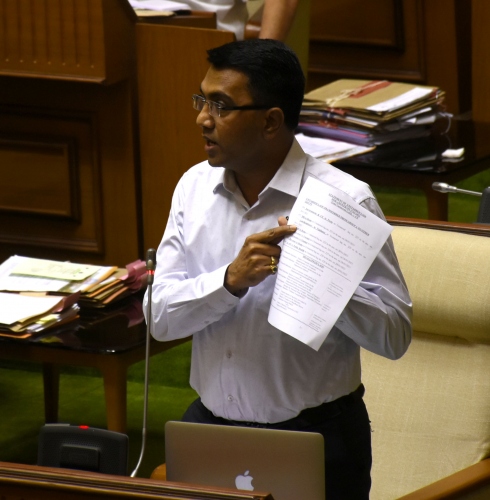 Photo Credits: Narayan Pissurlenkar
PANAJI
The controversial Goa Lokayukta (Amendment) Bill was on Wednesday introduced in the State legislature even as the government dropped the contentious amendments related to leases and house/property tax and tabled a diluted Goa Municipalities (Amendment) Bill.
The changes in the lokayukta legislation have come in for severe criticism from the political Opposition as well as civil society who have raised fears it will drastically dilute the anti-corruption institution into a paper tiger.
The Goa Municipalities (Amendment) Bill, 2021 introduced by Urban Development Minister Milind Naik deals only with the provisions related to creation of additional wards in 'B' class municipal areas ahead of elections scheduled in April.
The Goa Non-Biodegradable Garbage (Control) (Amendment) Bill, 2021 and The Goa Staff Selection Commission (Amendment) Bill, 2021 were the other government-sponsored bills introduced on Wednesday.
Meanwhile, the Chief Minister on Wednesday assured the Goa legislative assembly that the government will not go ahead with the proposal to legalise cannabis plantation proposal.
Sawant was responding to a 'Calling Attention Motion' tabled unitedly by Opposition MLAs.
Some weeks ago, the State witnessed a furore in political circles after it came to light that a file related to legalising cultivation of cannabis for medical use had been circulating in ministries and departments connected to the matter.
Cannabis use as a narcotic drug is widely linked to the tourism industry in Goa. It is also banned under the Narcotic Drugs and Psychotropic Substances (NDPS) Act, 1986.
Sawant said cannabis has wide use in the medical field and a Centrally advised proposal had come up but his government has refused to take it forward after considering all related issues.