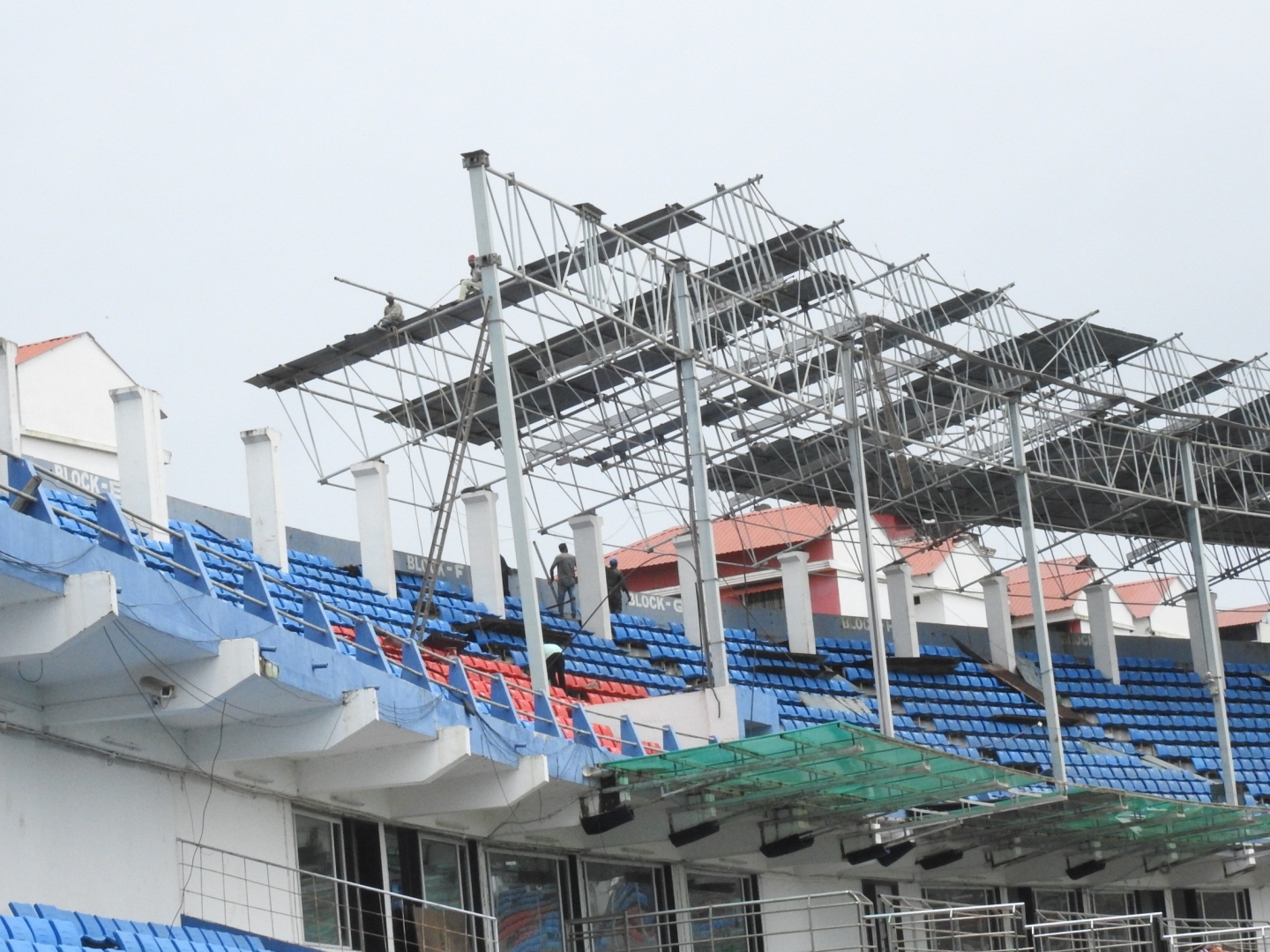 Photo Credits: Santosh Mirajkar
MARGAO
With Goa playing host to the FIFA U-17 Women's World Cup matches in October this year, the Jawaharlal Nehru International stadium is getting a facelift.
Work on the repair and replacement of the stadium roof sheets is progressing on a fast pace to meet the September deadline. Beside the roof sheets, the government is also on the job to spruce up the sanitation facility at the stadium and refurbish the VIP rooms.
The roof sheets were blown away during the cyclonic winds that had lashed the state during the current monsoons. Speaking about the ongoing works, Sports Minister Govind Gaude said, "Repair and replacement of the roof sheets, besides refurbishing the toilets and the VIP rooms and other works will cost the exchequer around Rs five crore."
He added: "The Sports department had prepared an estimate to the tune of Rs 14 crore to refurbish the stadium. But due to the financial constraints, it has been decided to take up the work of replacement of the roof sheets and the improvement in the toilets and VIP rooms. Since the FIFA U-17 Women's World Cup is scheduled in October this year, there's not much time left to take up the repair and maintenance on the entire stadium."
Exuding confidence of completing the work ahead of the World Cup matches, Gaude said all the planned repair and maintenance would be complete by September.
"We have set September as the deadline to complete all the ongoing works. I am happy that work is progressing at the Nehru Stadium on a fast pace. Almost half the planned work is complete and the rest of the work will be complete as per the September deadline," he said, adding that the Stadium will get a fresh coat of paint ahead of the World cup matches.