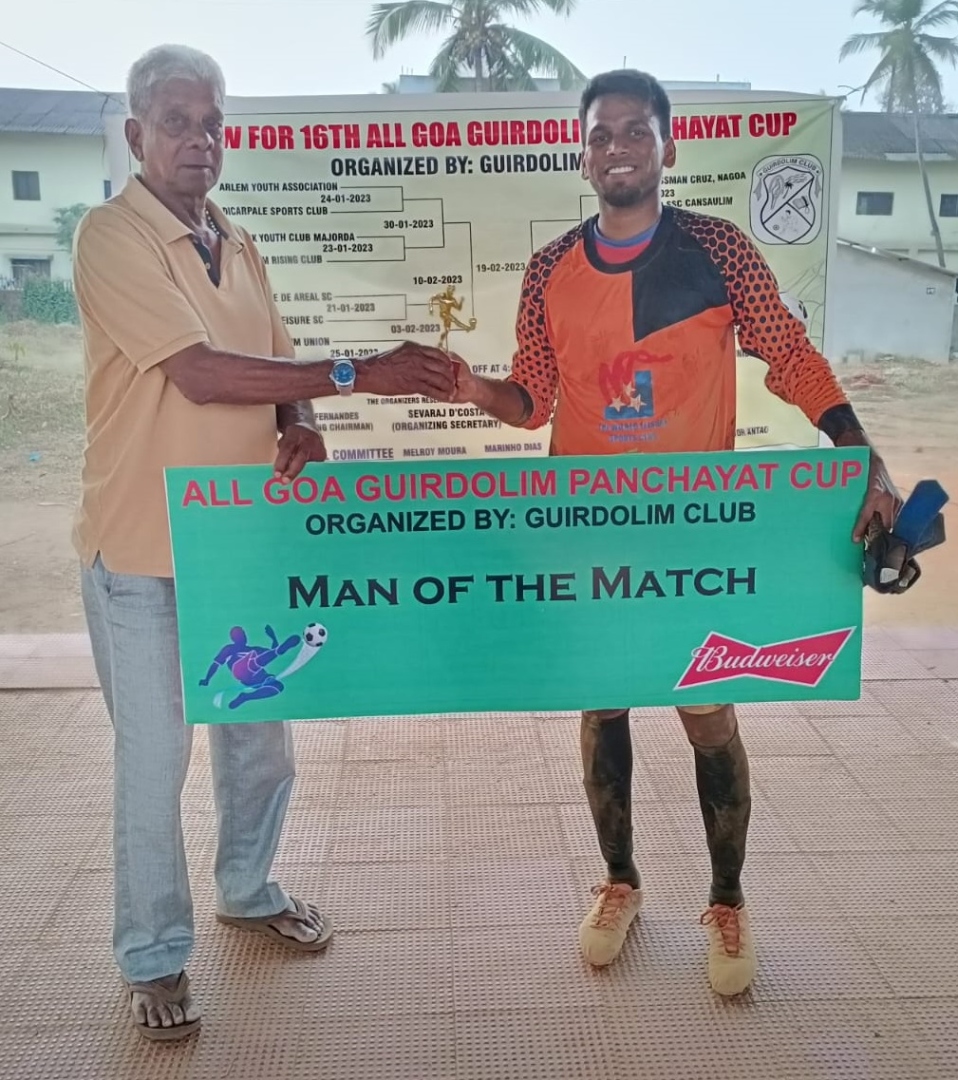 Photo Credits: The Goan
MARGAO
Wilred Leisure SC shunted out Carmona Sports Club 5-4 via tiebreaker to move into the semifinals of the Guirdolim Panchayat Cup inter-village football tournament at Church Ground, Chandor on Friday.
Wilred made the first move but Carmona keeper Aaren displayed brilliant reflexes to thwart Milagres Fernandes from close range. Dylon of Carmona then missed a golden opportunity to score as he delayed in taking a shot and was dispossessed by Manuel Castanha in the Curtorim defence.
Changing over, the combination of Yuri and Ashley in the Wilred defence kept the opposition strikers at bay. Aaren again produced a good save to deny Mairon Fernandes from close range. With both defences staying rock solid, the match ended goalless at regulation time.
In the tiebreaker, Mairon, Amar, Aliston, Milagres and Fredy were on target with Joy missing while for Carmona, Aaren, Bleston, Dylon and Blayln scored while the kicks of Eltrin and Sanford were saved by Wilred keeper Ignatius Gomes, who received the Man of the Match award from Marinho Dias.
Carambolim SC ease past Shree Nagesh Maharudra
Carambolim Sports Club scored an easy 2-0 win over Shree Nagesh Maharudra Sports & Cultural Club in the GFA Second Division League (Ilhas Zone) at Taleigao ground.
In the first session, Carambolim broke the deadlock in the 26th minute through Sachin Kanelkar. In the next minute, Trivendra Madkaikar grabbed the opportunity while shooting the ball right into the net, giving Carambolim a lead of 2-0. The Carambolim defenders ensured their triumph even though Shree Nagesh Maharudra gave their best to get back into the game.
DBO Fatorda march into Lourdes finals
Don Bosco Oratory of Fatorda defeated Chandor Club 3-2 to enter the finals of the Lourdes football tournament played at Ambelim ground on Friday. The teams were tied 1-1 at the breather. Joaquim Carvalho, Francis Andrade and Sweton Rebello netted for Don Bosco Oratory while Rishabh Karapurkar and Alrench Peixoto were the scorers for Chandor Club.
Bodybuilding team selection trials on Feb 12
The selection trials to pick the Goa team for the 13th Men's Junior/Master/Divyang/Senior Women's Bodybuilding and 4th Junior Women's Sports Model Physique National Championship 2023 will be held on February 12 (10.30 am to 11.30 am) at UFG Gym, Aquem, Margao.
In below 21 juniors bodybuilding, athletes born on or after March 4, 2002 are eligible to participate. The birth certificate is compulsory. The national championship organised by Rajya Sharir Sausthav Sanatha, Ujjain, Madhya Pradesh will be held from March 4-5 at Ratlam, Madhya Pradesh. The championship will be held under the aegis of the Indian Body Builders Federation.
U-14 boys named for tennis-ball cricket camp
PANAJI: Goa Tennis Ball Cricket Association has picked U-14 players (boys) for the pre-Nationals Coaching Camp to select Goa and Goa A teams for the 6th Mini U-14 National Tennis Ball Cricket Championship to be held at Sholinghur, Tamil Nadu from February 17-19. The selected players: Pundalik Bhamaikar, Gauraksh Gauthankar, Smit Dhuri, Deepkrishna Kamat, Ayush Gawde, Eknath Naik, Paaras Phadte, Suyash Shetye Yuvraj Malik, Rutvik Malik, Swayambhu Malik, Krishna Kambli, Mukund Bhagat, Krutharth Gaude, Swarit Gaude, Saiesh Virnodkar, Swapnil Patil, Rama Varak, Saipchand Dicholkar, Jaganath Gadekar, Janardhan Thakur, Sairaj Ghare, Shawnak Pagi, Dilshan Pagi, Tanay Velip, Mayur Pagi, Ved Palkar, Dikshay Gaonkar, Shubham Gaonkar, Sankalp Naik, Dawik Gaonkar, Pratik Chavan, Mrunal Naik, Darmesh Gupta, Aarush Aeer. The players need to report on February 4 at SAG ground, Campal at 2.30 pm with a playing kit and required documents such as birth certificate, Aadhar card, 4 self photographs and medical fitness certificate from a doctor. The players have to report to Sandip Navik or Shyamsunder Aeer or Hemant Khot or Haresh Parsekar at the venue.
Khelo India judo: Goa's Winzia wins bronze
PANAJI: Gujarat, Rajasthan and Madhya Pradesh led the top-three positions in Junior Girls category rounds on the penultimate day of action of the 2nd Khelo India National Women's League Ranking Judo Tournament 2023 (West Zone) at Indoor Stadium, Campal, Panaji.
While days one and two belonged to Maharashtra, day three unfolded a different script. Judokas from Gujarat put up impressive performances to secure two golds, three silver and one bronze for their State. Judokas from Rajasthan and Madhya Pradesh too had a good outing, with Rajasthan bagging two gold, one silver and three bronze medals, closely followed by Madhya Pradesh with two golds and a silver.
Goa's Winzia, who had won a silver in cadet girls on the previous day, extended Goa's haul to three medals by winning a bronze in the junior girls +78 weight category.