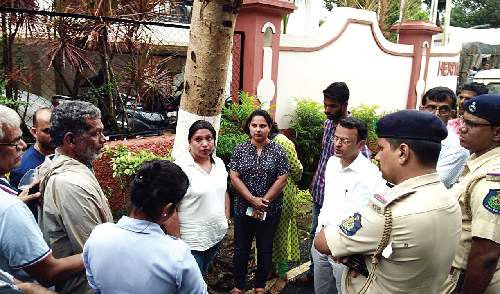 the goan I network
VASCO
Arossim village witnessed tense moments on Monday evening after several villagers blocked a heavy vehicle carrying items towards a proposed starred hotel project in the village.
The residents have filed a case against the proposed hotel project before the Directorate of Panchayats (DoP) and this is the second instance where villagers have sent back a vehicle carrying equipment to the project site located in the village.
A few months ago, the locals had sent back a trailer carrying security cabins to the site.
According to sources, a heavy vehicle was moving towards the proposed hotel site through narrow roads in the village on Monday evening.
Some locals confronted the driver and sought to know his destination.
Tension broke out after the driver said he was headed to the hotel site.
Angry locals then blocked the truck and demanded that the driver turn back, as there was an ongoing case against the hotel project.
As the situation turned tense, police teams from Verna and Vasco rushed to the site to defuse the tension.
Mormugao Joint Mamlatdar Shripad Majjik also visited the site and held talks with the agitated locals.
After a lengthy discussion, the heavy vehicle was sent back and Majjik also assured to take up the matter with the Deputy Collector in Vasco.
A resident, Jose D'Silva, informed that a case was being heard before the Directorate of Panchayats at Panaji on the same proposed hotel project on Monday.
Another resident, Menino Pereira, said elected members and authorities must respect the sentiments of
locals before proposing
new projects.