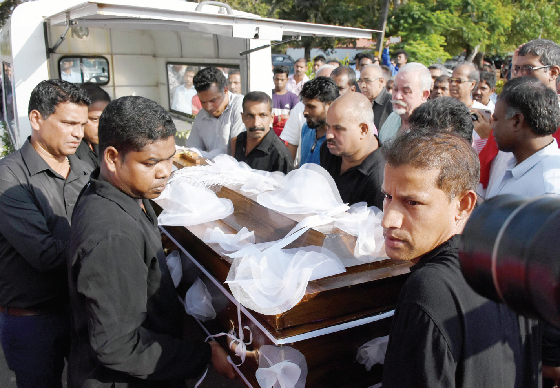 the goan I network
MAPUSA
Hundreds of people bid adieu to ace fashion designer and Padma Shri Wendell Rodricks as his mortal remains were laid to rest at a simple and minimal ceremony on Thursday evening.
The homily lasted for around 10 minutes, the mass ended within 45 minutes and the entire service including the burial lasted a little over two hours. Interestingly, no one was allowed to publicly pay tributes to the departed soul.
Rodricks, who passed away after a brief illness at home on Wednesday evening, was laid to rest at his native village of Colvale.
As per the request of his family, there were no visitors to his house and at 4 pm, the funeral cortege left to St Francis of Assisi Church at Colvale.
The funeral mass was held in Konkani with his close family members, neighbours, friends and well-wishers participating in the
last rites.
Colvale Church Parish Priest Fr Januario D'Costa along with other four priests presided over the concelebrated mass.
Rodricks, who is survived by his partner Jerome Marrel and three brothers, was remembered for his simplicity and his love for the
environment.
Fr Freddy Lobo in his homily said that despite his popularity and achievement, Wendell remained a simple man who loved his village and Goa.
"He was famous but yet so humble. He was always helpful to those in need," Fr Lobo said.
He also highlighted the fashion designer's love for nature and environment and recalled how he came out to save the iconic mango trees in Colvale.
Among the mourners included Leader of Opposition Digambar Kamat, local MLA Nilkant Halarnkar, industrialist Shrinivas Dempo, Bollywood actor Arshad Warsi and representatives of the fashion and film industry.
"He was a very dear friend. Too nice a person, very helpful and well read. One of the nicest people I have met. Really sad. I miss him a lot," Warsi said, adding that he had first met him at a Lit Fest at Bhutan.Youngest of four siblings,Joel Rodricks, in his thanksgiving speech recalled that Wendell was a quick learner and extremely talented.
"He was a perfectionist and extremely hardworking. He also chose to live large," Joel said, adding that he also loved Goa, especially his village of Colvale.