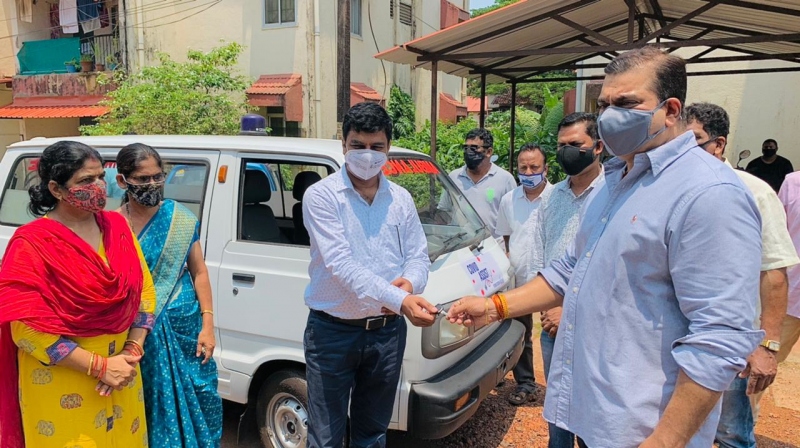 PORVORIM
In a bid to assist to the Porvorim Primary Health Centre (PHC) in its efforts to tackle the spread of Covid, Porvorim MLA Rohan Khaunte donated an ambulance 'Covid Assist' to the health centre.
"There has been a tremendous rise in Covid cases the State in the last few days and Porvorim has become a Covid hotspot. The Covid active cases in Porvorim have crossed the 1,000-mark and there has been a heavy load on the Porvorim PHC," said Khaunte, while speaking to reporters.
The PHC staff has been doing a commendable job on the Covid front and to provide a helping hand, I decided to donate an ambulance to PHC for transportation of Covid patients to the hospital."
He has requested residents of Penha da Franca, Socorro and Salvador do Mundo to get in touch with Porvorim PHC if they require an ambulance.
The Porvorim MLA said he had spoken to Chief Minister Pramod Sawant and requested him to organise a meeting with the deputy collector and health officials to chalk out a micro-management programme at the panchayat level to tackle the Covid situation.
Porvorim PHC Health Officer Dr Vikas Naik thanked Khaunte for donating the ambulance and said it would help the health centre in transporting Covid patients to the hospital.
"The PHC has increased testing of patients and the vaccination drive is also getting a good response from people. Since the space at Porvorim PHC is insufficient, vaccines are now being administered at the Sanjay School as per the advice of Directorate of Health Services."
"We appeal to people to wear masks without fail when they move out of their houses, to sanitise their hands and maintain social distancing in public places, to reduce the risk of Covid infection," said Dr Naik.