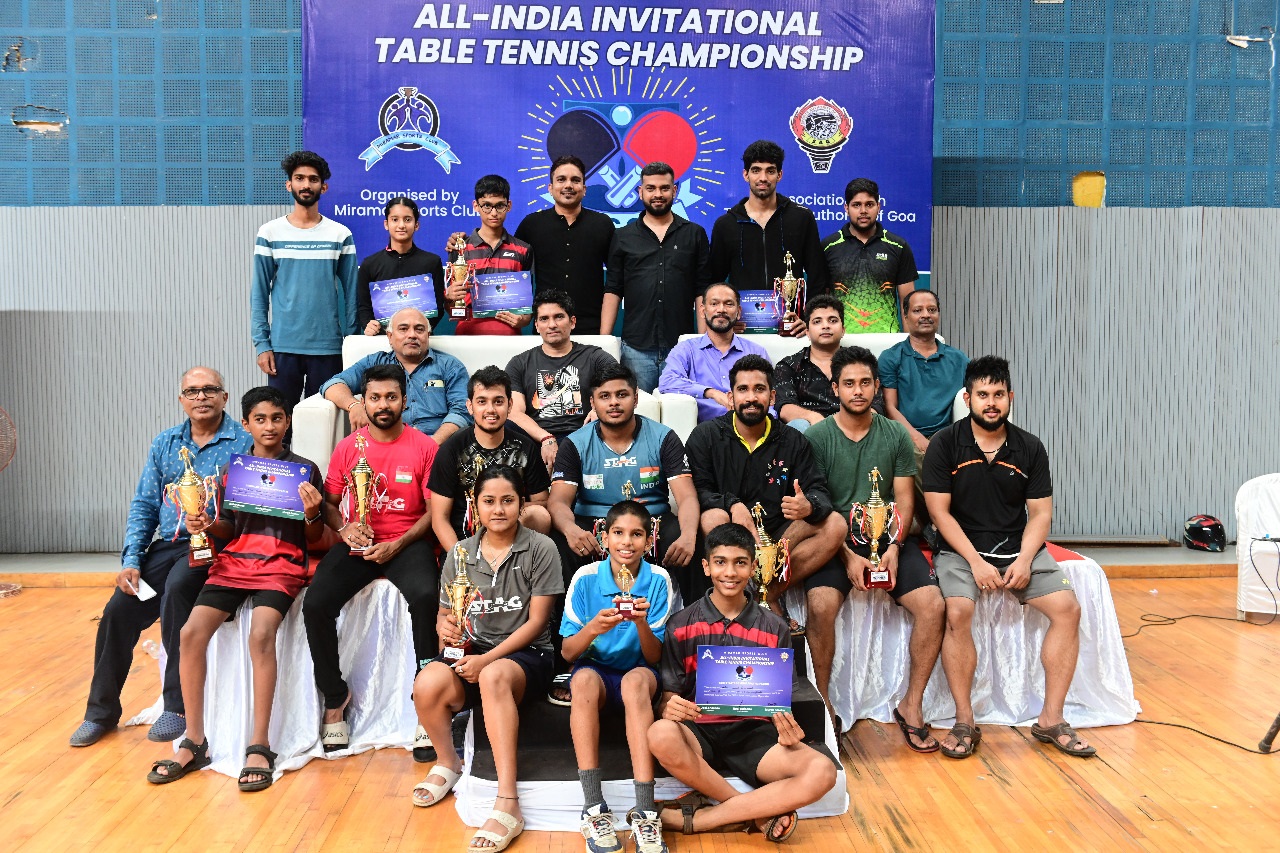 PANAJI
A star-studded JSA Communications were crowned winners of the 5th All India Invitational MSC Cup Table Tennis Team championship, which concluded at multipurpose stadium, Peddem.
The JSA team, propelled by their star players Arjun Ghosh, Sourav Saha, Surojit Das and Moumita Datta, won in an emphatic fashion, defeating Team AVSC 3-0 in the Open Team event. Swarnedu Chaudhary, Ali MD, Arindam Debnath and Sai Prashant, who had played brilliantly for Team AVSC in the lead up to the finals, found the going tough in the finals against the JSA line-up which had top national champions such as Sourav and Arjun.
BTTA Paddlers won the Under-15 team championship, registering a facile 3-0 win over Little Champs. Samaira Soares, Ayushi Godse and Tanishka Kalbhairav (national U-11 finalist) secured gold for the winning team while Rishan Shaikh, Khushal Naik, Aaron Farias and Akshan Lawande, who represented the runners-up, won silver.
In individual events, Arjun Ghosh and Sourav Saha defeated Moumita Datta-Surojit Das 7-11, 11-8, 11-7, 11-4 to emerge victorious in Open Doubles. Arjun had a memorable outing, adding the Open Singles title to his tally with a fighting 8-11, 11-8, 13-11, 11-2, 11-9 win over Ali Mohammad in the finals, securing triple glory in the process. Swarnendu C / Ali M and Kaustubh U / Jayesh K settled for bronze medals in the Open Doubles category. In Open Singles, losing semifinalists Sourav Saha and Swarnendu Chowdhury secured 3rd place finish.
The 5th edition of the MSC Cup was organised by Miramar Sports Club in collaboration with the Sports Authority of Goa. MSC officials Joel Andrade (President & CCP Councillor), Noel Estibeiro (Vice President), Myron Pereira (Treasurer), along with Kabir Pinto Makhija (CCP Councillor and Goa TT Association executive member), Daniel Pinto and Amey Lawande (sports promoters) graced the finals. Girish Chodankar, social worker, former Congress president, was the chief guest for the finals.
RESULTS: Open Team finals - JSA Communications beat AVSC 3-0 (Arjun Ghosh beat Ali Mohammad 11-7, 11-8, 11-7, Sourav Saha beat Swarnendu Chowdhury 11-8, 8-11, 13-11, 11-8, Surojit Dav & Sourav Saha beat Anidram Debnath and Ali Mohammad 11-8, 11-9, 11-3); U -15 Team finals - BTTA beat Little Champs 3-0 (Ayushi Godse beat Rishan Shaikh 7-11, 11-2, 11-8, 9-11, 11-6, Tanishka Kalbhairav beat Kushal Naik 9-11, 11-8 ,11-7 ,7-11, 11-9, Saimira Soares & Ayushi Godse beat Akshan Lawande & Rishan Shaikh 11-8, 15-13, 11-8).