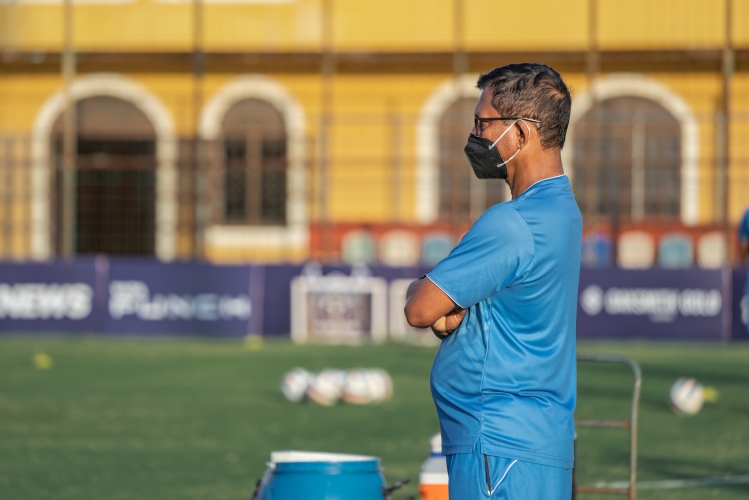 PANAJI
A lack of precision in front of the goal and unforced errors at the back have marred FC Goa's campaign so far in the 2021-22 ISL season. Suspensions, dubious referee decisions and untimely injuries on top of that have compounded the problems.
That has meant that despite having large spells of possession during games, they have failed to strike through opposition defences with as much regularity as one normally would associate with the Gaurs. On the other side of the field, the uncharacteristic blemishes have sapped out the energy from the team at crucial junctures.
It has been a season of the unexpected for the Gaurs. Derrick Pereira's season took an unexpected turn as well when the former Indian international took over the reins midway through the season.
"This season has not been very good for us from the beginning. We have had opportunities to climb up the table. We need to change our approach in the remaining games," stated Derrick Pereira in the pre-match press conference ahead of their game against Bengaluru FC. "Our focus to start was to get into the playoffs. That put us under a lot of pressure."
While the focus might have shifted towards the long term, the belief in the abilities of the players in the squad remains unwavering. And Pereira dissuaded any suggestion that the Gaurs will look for anything but all three points going into Sunday's clash against Bengaluru FC.
"We believe in all the players we have right now. We will go into the game with a plan and see who is best suited for that," Pereira added. "When I say that we are looking at the long term, it's to see what will make the team stronger in the days to come, especially in front of goal. Our lack of goals put a lot of pressure on the back line."
Bengaluru FC come into the match on the back of a 5-game unbeaten streak with their last defeat coming at the hands of FC Goa in the reverse fixture earlier this season. The Blues will also be coming into the game after a long gap of more than 10 days.
"They are in good form right now. They have changed their formation and way of playing," stated Pereira about their opponents on Saturday night. "It's going to be a difficult game. We have to go into the game believing that everything can change. When you go to war, you have to show heart and be ready to perform to the best of our abilities."
All three points will see Derrick Pereira's men being propelled to 5th on the table. The FC Goa mettle thus will be put to the test again, this coming Sunday as they face off against one rival they have enjoyed recent success against, but one that has historically played spoilsport.