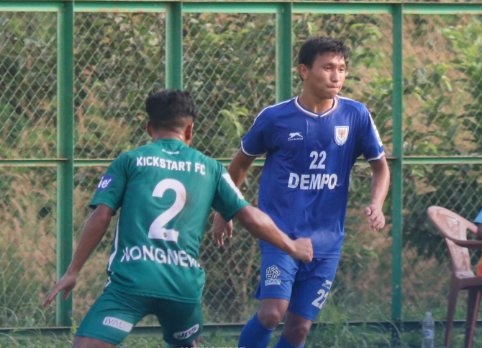 Photo Credits: The Goan
MARGAO
In an electrifying match, Dempo Sports Club showcased their prowess with two brilliant goals and several tantalising opportunities against Kick Start FC, Karnataka for a 2-0 victory in the I-League 3 at Dempo Academy Ground, Ella on Sunday. Dempo led 1-0 at halftime.
The opening goal in the second minute was a class in individual skill and determination. Dempo's Saiesh Bagkar became the catalyst for their attack, embarking on a mesmerising solo run that left rival defenders trailing in his wake. With unparalleled agility and precision, he surged towards the byline, delivering a tantalising cross. The goalkeeper's desperate attempt to intervene fell short as striker Vasim Inamdar's shot deflected from a rival defender and Laxminrao Rane made way for Vasim to find the bottom corner of the net, igniting an eruption of cheers from the Dempo supporters.
Throughout the game, Vasim continued to dazzle, showcasing a combination of offensive flair and defensive resilience. His relentless efforts not only bolstered Dempo's attacking momentum but also thwarted Kick Start's attempts to gain a foothold in the game. Dempo had scoring chances but Vasim and Ariston Costa misfired from close range.
As the second half commenced, Dempo solidified their dominance with a breathtaking display of teamwork. Vasim and Seigoumang Doungle orchestrated a sublime passage of play, threading a perfect through ball to the waistline. With seamless precision, Brian Faria swiftly relayed the ball to the awaiting Vasim, who exhibited remarkable composure to calmly dispatch the ball into the back of the net, securing Dempo's second goal and a comfortable 2-0 lead in the 53rd minute.
In the 76th minute, Kick Start suffered a blow when their defender Johnson received a second yellow. There was a minor jostling incident as the visitors indulged in a rough display inviting the referee's caution with a yellow.
Dempo's Mohammed Ali and Brian Faria were stubborn at the back. Ultimately, Dempo's cohesive teamwork, exemplified by their clinical finishing and creative build-up play, proved decisive in securing a well-deserved 2-0 victory.
With this win, Dempo topped the group with nine points and require a draw, against Rangdajied United FC on November 21 to progress to the final round.