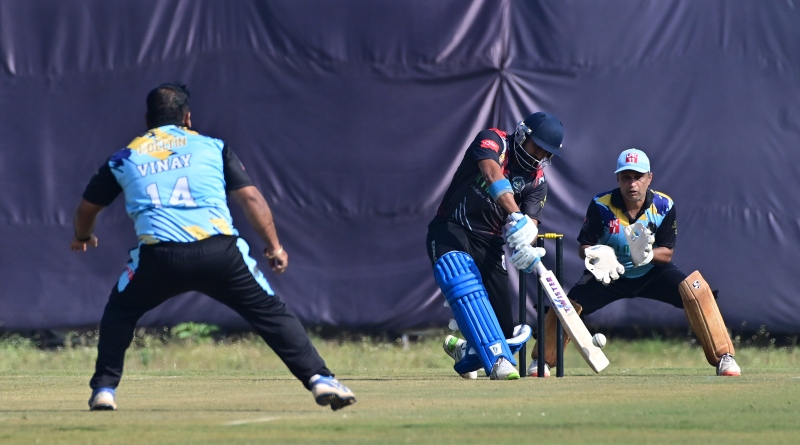 Photo Credits: The Goan
PANAJI
Manas Mavericks stayed alive in the Panjim Gymkhana Members League T20 with a thrilling 5-run victory over LPK11 while Dempo Challengers scored an emphatic five-wicket victory over Baale Tigers on Matchday 4 to make it three wins in a row, at the ongoing Panjim Gymkhana Members League T20 at PG ground, Campal, here on Sunday.
Dempo continue to lead the table with three wins from three matches. With this loss, Baale Tigers ended their league engagements with just one victory in four matches. Manas Mavericks also notched up their first win of the exclusive members T20 fun event to stay in hunt for the knockout phase.
Dempo Challengers having already secured their place in the next stage, came out confidently to maintain their 100 percent record in the competition. Electing to bat, Baale Tigers suffered a batting failure and could only manage to post a total of 109/9 as Dempo bowlers displayed great discipline.
Rohit Mehta was the highest scorer of the Baale Tigers innings with 38 runs off 31 balls. His unbeaten knock comprised five boundaries. Captain Kapil Angle made 16 while Sudin Kamat contributed 13 runs. Dempo bowlers Aryan Mashelkar and Ajay Pednekar took three wickets each. Mukhtar Kadri, Nakul Mhamal and Sargam Falare picked up one wicket apiece.
After early departure of the openers, the Dempo run chase was resurrected when captain Mukhtar Kadri continued his fine run with the bat. His 38 from 16 balls, was the knock that put the Challengers on the road to victory. He struck six fine boundaries and a sixer. Watching him go, young Mehank Dharwadkar grew in confidence and scored 35 off 31 balls, which included four boundaries. Aryan Mashelkar was named man of the match and received the award from former Ranji Trophy cricketer Anil Arolkar.
Earlier in the day, Manas Mavericks returned from the brink as they held their nerve to beat LPK11 by five runs. Having elected to bat first, Manas Mavericks posted a fighting score of 135/6 in 20 overs. Shailesh Miskin was the top scorer with 33 runs to his name with his 24-ball knock consisting three boundaries and a sixer. Sandeep Signapurkar contributed 28 runs.
Rajaram Kundaikar played a handy unbeaten inning of 22 runs (21 balls, three fours) and then delivered a crucial bowling performance (2/21) that included defending 8 runs in the final over. He was named the man of the match. CA Satish Dhume was the chief guest and gave away the prize.
LPK11 looked at ease, in the run chase after an aggressive start via opener Anup Kudchadkar. The captain struck five boundaries and two sixers in his 18-ball 36-run knock. Notable innings by brother duo of Anish (27) and Manish Kakode (24) kept LPK11 in the contest. The match turned at the late stage when Siddharth Ghanekar (23) was caught by Manas Mavericks captain Ilyas Naroo on the boundary in the 18th over.
Apart from Rajaram, Dattesh Priolkar took two wickets; while Jamir Carol, Ilyas Naroo and Shekhar Amonkar took one wicket each.
BRIEF SCORES
> Baale Tigers 109/9 (Rohit Mehta 38 NO, Kapil Angle 16; Aryan Mashelkar 3/18, Ajay Pednekar 3/19) Dempo Challengers 110/5 in 16.3 overs (Mukhtar Kadri 38, Mehank Dharwadkar 35; Sameer Chodankar 2/13).
> Manas Mavericks 135/6 (Shailesh Miskin 33, Sandeep Signapurkar 28, Rajaram Kundaikar 22 NO; Marwin Carvalho 2/13). LPK 11 130/9 (Anup Kudchadkar 36, Anish Kakode 27, Manish Kakode 24; Dattesh Priolkar 2/16, Rajaram 2/21).