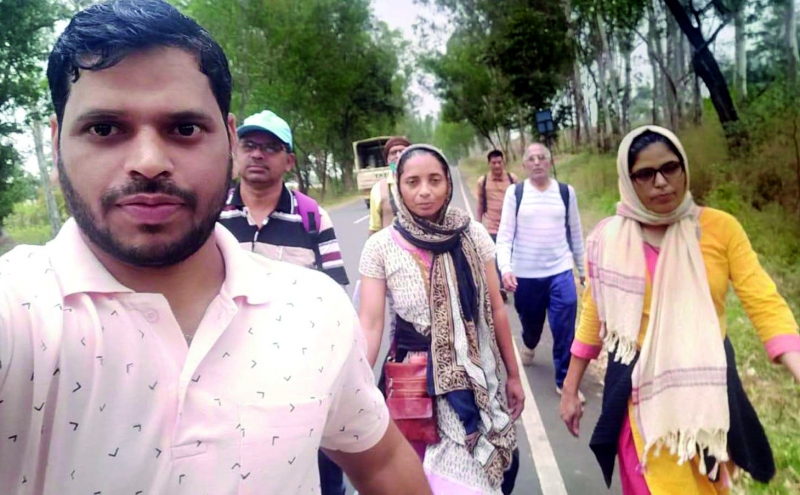 BELAGAVI
A decades-old tradition by Catholics of Goan origin from Belagavi, Gadhinglaj, Khanapur and neighbouring areas in the Upper Ghats to take part in a walking pilgrimage to Old Goa for the Feast of St Francis Xavier has been cancelled this year on account of the pandemic.
However, devotees of St Francis Xavier in Gadhinglaj have undertaken a novel pilgrimage to keep the tradition alive.
To quench their spiritual thirst and keep the four-decades-old tradition intact, they have begun a walking pilgrimage between Gaghinglaj and Nesari village, a place that has a church dedicated to St Francis Xavier.
Hundreds of walking pilgrims from the Upper Ghat region visit Old Goa every year, as part of a tradition which was started by noted Jesuit priest Swamy Prabhudhar, who hailed from Aldona.
The first pilgrimage began with just seven pilgrims and gained popularity over the years, as pilgrims would begin the walking pilgrimage on the first day of the Novena to St Francis Xavier and walk their way to the Basilica, which houses the relics of 'Goencho Saib'.
"As the walking pilgrimage has been cancelled due to the Covid pandemic, the faithful were disappointed and in some way, wanted to continue their devotion to St Francis Xavier," Parish Priest of St Anthony's Church Fr Joe Monteiro, S.J told The Goan.
"We then came up with a novel concept, of walking the 22 kms distance from Gadhinglaj to Nesari village for seven days and offer novena at the St Francis Xavier Church at Nesari village," Fr Monteiro added.
According to Santan Rodrigues (Bardeskar), a retired teacher and gaonkar of Chorao village who is heading this pilgrimage, a few of them started this unusual pilgrimage from November 28.
"We start our journey at around 5.30 am every day and expect more faithful to participate in coming days," said Rodrigues.
"We have offered 'angvonn' to Goencho Saib and we believe that our petitions, like millions of other faithful, will be heard by our patron saint, who will definitely intercede and take away the coronavirus, so that we continue our pilgrimage to Old Goa uninterrupted from next year," Bardeskar added.
Scores of faithful from the Upper Ghat region in North Karnataka and South Maharashtra and neighbouring areas are longing to visit Old Goa this year.
"We are exploring ways and means to fulfil our desire to take 'darshan' of our patron saint St Francis Xavier," said one pilgrim, while expressing a desire to visit Old Goa.